Posted on
Mon, Dec 26, 2011 : 5:57 a.m.
The Resource Hub is helping nonprofits better assist those in need
By Alan Caldwell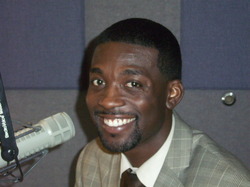 This past holiday weekend, we aired a special encore program, repeating talks with two favorite guests. Kino Smith, the operations coordinator with the Resource Hub, joined us first.
Kino was such a delight to meet and have on the show. His enthusiasm and passion for his organization is quite infectious.
The Resource Hub works to combine and utilize the resources of more than 700 different nonprofit organizations. They have a small administration staff and a large army of volunteers. They are housed in downtown Detroit in the old trolley plaza building. Their goal is to service not only southeast Michigan, but all of Michigan.
They work to help seniors and those with disabilities. The goal is really to "teach people how to fish, not just give out fish." They try to help folks with whatever needs they have — food, clothing, keeping the utilities turned on, medical needs, transportation, whatever.
Kino spoke about how they help individuals but also spend a lot of time talking with nonprofit organizations (there are 47,000 registered nonprofits in the state of Michigan). The hope is to bond different organizations together.
Kino likes to emphasize "the we mentality, instead of the me mentality." The groups they work with include the Salvation Army, St. Vincent De Paul, Catholic Social Services and the Department of Human Services.
The Resource Hub is also involved with a new internet initiative, LookUpDetroit.com. This new website is a central location for various community resources, and is becoming a terrific help for those looking for assistance.
To listen to this 13-minute talk, click the audio link:
To contact Kino Smith or the Resource Hub, call 313-701-8787, or e-mail resourcehub1@gmail.com.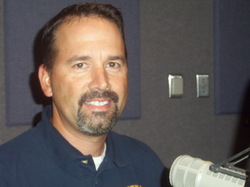 Photos by Sheila Doeden
Our second encore guest was Britt Michel, the transitional Therapy Program director for the Physical Medicine and Rehabilitation Department, with the University of Michigan Health System. This organization is housed in the Burlington Building at 325 E. Eisenhower Parkway. Their focus is primarily helping those with back pain and older patients.
Britt's program is working to address an under-served population. Within the growing baby population, there are those that graduate from physical therapy care that can likely benefit from a continuing structured fitness program.
Britt's fitness center has Functional Fitness for Older Adults classes. This is specifically for seniors, led by clinical exercise physiologists. These classes last eight weeks, meeting for 90 minutes, twice a week.
While the classes are not covered by insurance, the price is very reasonable at $170. This is for the first eight-week course that includes a one-hour personal assessment, and a one-hour individual orientation to the fitness center. Renewal courses are only $100.
To get started, you need an exercise clearance from your physician, usually just an e-mail. They currently have more than 50 participants across five classes. Britt talked about the camaraderie that develops in each class. People get to make new friends and maybe get reacquainted with old ones.
Britt shared that while the youngest in the classes is 65, the oldest is a 98-year-old woman. She has been with the program for over 10 years. "She's a great example of how you stay with it," Britt said.
To listen to this 14-minute discussion, click the audio link:
To get in touch with Britt, you may e-mail brittm@umich.edu, or call the Physical Medicine and Rehabilitation Department at 1-734-763-4990, or access their website at med.umich.edu/pmr.
Alan Caldwell and Sheila Doeden co-host Everything Elderly every Saturday morning at 8:30 on 1290 WLBY. In their day jobs, Alan and Sheila co-own and co-manage Senior Helpers, providing in-home care services, primarily to the elderly. Both can be contacted at homecareexcellence@seniorhelpers.com, or at 734-927-3111.