Posted on
Sun, Dec 18, 2011 : 5:50 a.m.
Senate resolution commemorates National Cancer Act and reaffirms that cancer research is a national priority
By Betsy de Parry
On Dec. 23, 1971, President Richard Nixon signed the National Cancer Act and the war on cancer was on. Specifically, the act launched the nation on a concerted course to conquer cancer through investment in cancer research and biomedical science.
Earlier this year, Dr. Max Wicha, Director of the University of Michigan Comprehensive Cancer Center (UMCCC) sat down with me to talk about this 40-year war. If you missed it, I encourage you to take a few minutes to read both Part I and Part II of my report that resulted from our conversation. It's a fascinating glimpse of where we were when the war began, where we are and where we're going.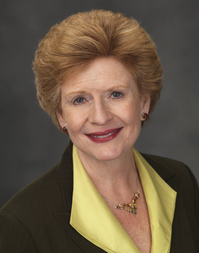 Last Tuesday, Dec. 13, the United States Senate passed a resolution commemorating the 40th anniversary of the signing of the National Cancer Act. S. Resolution 347 is also a tribute to the more than 12 million cancer survivors who are alive today because of our nation's commitment to cancer research and the advances that have been made, and it recognizes that — despite significant progress — work remains if cancer is ever to be cured.
Most importantly, the resolution "reaffirms the commitment embodied in the National Cancer Act of 1971, specifically, that support for cancer research continues to be a national priority to address the scope of this pressing public health concern."
Our Michigan Senators Debbie Stabenow and Carl Levin were among the first to co-sponsor the resolution.
Says Senator Stabenow, who has long been an ardent champion of cancer and other health issues, "We are increasingly winning the fight against cancer through better care, but we must continue our commitment to research, prevention and innovative treatments." I couldn't agree more.
Senator Stabenow understands that the disease is personal. "Cancer is not just a medical statistic — it has impacted my own family and countless others." She adds, "All of us are impacted by cancer, and all of us, Republicans and Democrats, need to be united in the fight to help more and more cancer patients become cancer survivors." Amen.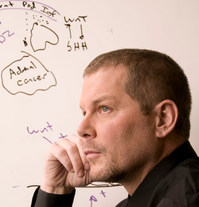 I hope this resolution will be the catalyst needed to renew the commitment to cancer research by "reminding people of how far we've come and how close we are to major discoveries for treating cancers," says Dr. Gary Hammer, Director of UMCCC's Endocrine Oncology Program. "We can't stop now because we've come so far."
Dr. Hammer adds, "It's not the time to curtail our efforts but to heighten them." Again, I wholeheartedly agree.
Dr. Hammer is a world-renowned specialist in adrenal cancer, a rare form of the disease that affects 300-500 people per year in the U.S.
When Senator Sherrod Brown, D-Ohio, Senator John Kerry, D-MA, and Senator Jerry Moran, R-Kansas, were drafting the resolution, they sought Dr. Hammer's advice for including language which resulted in recognizing that "uncommon cancers, which pose unique treatment challenges, provide an opportunity for understanding the general properties of human cancers and curing uncommon cancers as well as more common cancers."
Does that paragraph say what I think it does? Yes, and Dr. Hammer further explains. Uncommon cancers — those with low incidence — rarely get attention, but studying them, he says, is resulting in insight into the individual signaling pathways and mutations that are the "lynchpins for cancer."
"What we are learning from the uncommon cancers," he says passionately, "will be applied not just to subsets of common cancers but indeed to all patients who are ultimately going to be defined by their own genetic mutation." In fact, this is already happening.
Dr. Hammer adds, "It is clear, even for the common cancers, that there are many genetic variants of the disease." Indeed there are, and scientists now have the tools to identify them faster than ever.
When I was diagnosed with non-Hodgkin lymphoma in 2002, the World Health Organization recognized 30 sub-types. In 2008, it recognized 56 — almost double! Who knows how many more genetic variations will have been identified by the time the next report is published?
For all types of cancers, "different subtypes have different genetic signatures and they require different targeted therapeutic approaches," says Dr. Hammer. "In this line of reasoning, every cancer is rare." And treatment will be tailored to genetic signatures — truly personalized medicine which translates to better outcomes for patients.
So eventually — sooner, hopefully, rather than later — everyone will have a rare cancer because it will be defined by an individual's genetic mutation. But even now, uncommon cancers can teach scientists much about the more common varieties. It's no wonder that Dr. Hammer says, "Let's treat the rare cancers the way we treat rare gems that are highly valued."
Excellent point, especially now that he's helped me understand the role that uncommon cancers can play in unlocking the mysteries of other forms of the disease. I'm glad that the Senate resolution recognized their role.
I'm also delighted that the resolution was endorsed by 106 cancer research institutions, physicians, and advocacy groups and co-sponsored by 34 Democrats and 12 Republicans.
I applaud these 46 senators for publicly declaring their continued support for cancer research and for acknowledging that the National Cancer Act launched a commitment that has saved literally millions of American lives. I thank them for recognizing that our nation's 40-year investment is bearing fruit and for reaffirming their commitment to research in order to sustain the momentum generated by previous investment.
But resolutions are non-binding. While it doesn't necessarily mean that the 54 senators who didn't co-sponsor are against commemorating the 40th anniversary of the National Cancer Act or against continuing support for cancer research, I can't but wonder where they stand. After all, our legislators are responsible for appropriating funds for NIH (National Institutes of Health) and NCI (National Cancer Institute), the agencies which dole out money for research.
I urge these 54 senators to muster the political will, courage, conviction — and yes, the compassion — to join their colleagues in reaffirming that support for cancer research is a national priority.
If there's any doubt in their minds about why it should be a national priority, I'd like to remind all our legislators that America is the world leader in cancer research and the development of new therapies. We didn't get there by chance. We got there because of the long term commitment and steadfast determination by the administrations of both political parties to support and invest in research funded by NIH and NCI.
And I'd remind legislators that NIH/NCI research funding is also a powerful economic engine that, in 2010, generated $69 billion in economic activity in the U.S. and supported 484,939 jobs in every state and D.C.
But much more importantly, I would remind legislators that research is the very reason that many, like me, have gotten to go on living our lives and loving our families after cancer. I would remind them that scientists, armed with unprecedented knowledge, stand to make progress faster than ever before and that their labs must be kept humming with activity for the benefit of those who will be diagnosed in the future.
Most of all, I challenge every legislator to take cancer out of the political arena. Call me Pollyanna, but if there is anything on which we should all be able to agree, it's that cancer affects every one of us — Democrats, Republicans, Libertarians, Independents and members of every other political party. Senator Stabenow understands this, and as she clearly states, this is one fight in which we need to be united.
So let us all remember that cancer is a life-threatening, life-altering condition. Behind every statistic is a human being — a mother, a father, a husband, a wife, a child, a fellow American — who desperately depends on access to care and research for better treatments. That's why I would ask every legislator to commit to keeping cancer research a national priority by protecting — indeed, increasing - funding for NIH and NCI.
I can only hope that S. Resolution 347 will renew meaningful conversation that will lead to reinvigorating the robust commitment to cancer research that was launched 40 years ago. Lives are depending on it.
Note to readers: May there always be joy in your life and love in your heart. Happy Holidays!
Betsy de Parry is the author of Adventures In Cancer Land and the producer of Candid Cancer reports for the PBS show A Wider World which airs in this area on Tuesdays at 5:30 p.m. on WTVS. Find her on Facebook or email her.