Posted on
Mon, Dec 27, 2010 : 11:42 a.m.
Steroid abuse among law enforcement a problem nationwide
By Juliana Keeping
The badge and steroids?
It's a less common association than athletes and the drug, but it's a problem nationwide, according to recent media reports.
A growing number of police officers have been caught using steroids illegally, AOL News reported.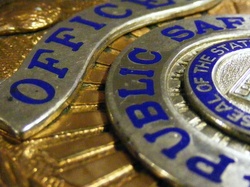 Photo courtesy of Flickr user banspy
According to the Office of National Drug Policy, anabolic steroid use can cause increased irritability and aggression. Withdrawal symptoms include severe depression and mood swings.
Lawrence Payne, a spokesman for the Drug Enforcement Administration, told AOL the DEA is in the midst of an active investigation into steroids, and numerous cases they've investigated have links to police officers.
"It's a big problem, and from the number of cases, it's something we shouldn't ignore. It's not that we set out to target cops, but when we're in the middle of an active investigation into steroids, there have been quite a few cases that have led back to police officers."
According to a September story in the Kalamazoo Gazette, a 38-year old Vicksburg man admitted to illegally supplying steroids to two police officers. One of the officers resigned in May and could face a criminal charge, while the other has been charged with a felony, the story stated.
The Orlando Sentinel tells the story of an 84-year-old man who suffered a broken neck after an officer threw the man to the ground. The confrontation occurred after the man became upset when his car was towed from a grocery story parking lot. The man's lawyer asked for the officer to submit to a drug test. The department refused, saying a test would violate the officer's rights.