Posted on
Thu, Jun 6, 2013 : 7:02 p.m.
Summer outdoors fitness fun: There are many ways to get in a workout and soak up sunshine at the same time
By Melissa Gerharter MS, RD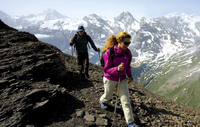 AnnArbor.com file photo
Summer opens the door to new calorie-burning
outdoor activities
! Below is a list of some great options to soak up the sun and get in your workout!
1) Waterskiing - Waterskiing is a great workout and a super fun one! If you're a newbie to skiing, try with two skies, the wider the better. Have some fun on the water with a challenging and exciting activity. Skiing will strengthen muscles that you may not typically use, especially your biceps, triceps, shoulders and upper back muscles.
2) Beach volleyball - Who doesn't love the beach? The hot sand on your feet and cool breeze of the water is hard to beat. Why not start up a fun game of volleyball with friends? Beach volley is an activity that involves running and hitting a ball; it burns many calories and works the arm and leg muscles. Many of our local parks have great beaches so make sure to check them out!
3) Hiking - Hiking is a great outdoor summer activity. There are plenty of nearby parks to explore through with great and safe hiking paths.
4) Swimming - Whether you opt for the pool, lake or the ocean, taking a dip is an outstanding workout.
5) Biking - Michigan has an abundance of great bike trails as do some great vacation spots around the country. So why not plan a vacation to a place with great biking or plan weekend bike rides around your home?
Be sure to use the great summer weather to your advantage and try out a new summer activity!
Melissa Gerharter MS, RD, CSSD is co-owner of Joust Strength and Fitness of Ann Arbor. She is also a part time lecturer at Eastern Michigan University and can be reached at melissa@joustfitness.com.