Posted on
Mon, Jul 16, 2012 : 8:32 p.m.
Summer workout switch up: Outdoor activities may help you avoid boredom with your fitness routine
By Melissa Gerharter MS, RD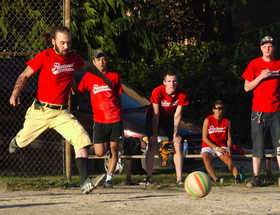 Photo by http://www.flickr.com/photos/94641197@N00/
This summer, switch up your workout with our some alternative workouts! From kickball to sand circuits, we'll let you in on some fun, challenging workouts that allow you to soak up all the summer weather has to offer.
Our first suggestion is water jogging. Water jogging is a great way to combine swimming and running into one workout. Make sure the water level is up to your waist. Some people choose to wear 'water socks' or shoes when water jogging. Simply run as if you are running on land, and you'll receive a great workout without the shock to your joints

Next on the list is trail hiking. There can't be a better way to explore nature than hiking the trails through forests and nature preserves. You can also add hiking poles to burn more calories during the hike. Check out local park and national park websites for great paths to try.
Have you ever done more than lay around at the beach? Why not try a sand circuit on the beach. Just do basic calisthenics such as jumping jacks and mountain climbers in the sand! Combine five exercises into a circuit of 10-12 reps. The sand will add an increased challenge, providing you a great workout.
Once a popular 90s craze, roller-blading is making a comeback. Skate around town while giving your legs a powerful workout. If you feel like you might need a refresher on how to roller-blade, stop by a local roller rink and sign up for a class.
Kickball leagues are becoming more and more popular lately. A six-inning game can help you burn up to 500 calories. Kickball uses more aerobic activity and muscles groups than softball or baseball. Grab some friends for a game or join a local league!
The next time you are bored with your normal fitness routine, try one of our suggestions above; it may become a new regular routine in the summer.
Melissa Gerharter MS, RD, CSSD is co-owner of Joust Strength and Fitness of Ann Arbor. She is also a part time lecturer at Eastern Michigan University and can be reached at melissa@joustfitness.com.