Posted on
Fri, Sep 16, 2011 : 12:12 p.m.
The "organic" Arsenic debate...is my apple juice dangerous?
By Eva Johnson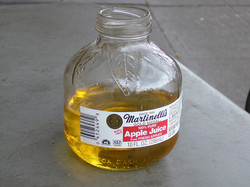 photo by flickr user jamieca
Who needs coffee when you can get jolted awake by apple juice news?
While driving out for breakfast this morning, I heard that Dr. Oz has stirred up some new apple juice claims: Apple juice may have "troubling" levels of arsenic. The FDA believes that this is "fear-mongering" and has released this statement: "There is no evidence of any public health risk from drinking these juices. And FDA has been testing them for years."
I heard Dr. Oz on the radio as he drank some apple juice and basically told everyone to calm down (calm down?) . His point is that he believes that there should be a standard level of total amounts of arsenic (organic or inorganic) that the FDA should regulate. The FDA doesn't think organic arsenic is a concern.
I plan to go apple picking soon (at my favorite local orchard, Wasem's Fruit Farm), and I also plan to overindulge on cider and doughnuts. The good news? Apple cider doesn't have high levels of organic or inorganic Arsenic. It is completely safe.
Apple juice is of the most concern to Dr. Oz, especially since the U.S. imports a lot of apple juice. I admit, I don't really understand how any kind of arsenic would be safe, organic or inorganic, since it is the same chemical compound, right? I need a chemist to explain to me the chemical differences between these two types.
I just want to know: Why do we assume that if it is natural and/or organic, it is safe?
For now, I think I will just continue to drink juice in moderation, since I don't like the high levels of sugar in juice anyway (and the high price tag). In fact, since my kids were babies, I have always severely diluted their juice because I don't think juice is all that healthy. I would rather give them a peice of fruit, since fruit contains all of that fiber and fills them up.
Will this new apple juice debate change your juice habit? What do you think about organic Arsenic levels?
Eva Johnson is an ACE (American Council on Exercise) certified personal trainer, who is looking forward to drinking squished apples and doughnuts soon. She lives in chaos with her husband and two boys. To see her complete blog about how to stay sane and in shape in the real world, visit www.fitnessbyeva.com.