Posted on
Thu, Mar 18, 2010 : 5:40 a.m.
St. Joseph Mercy Hospital prepares to open its new patient tower
By Tina Reed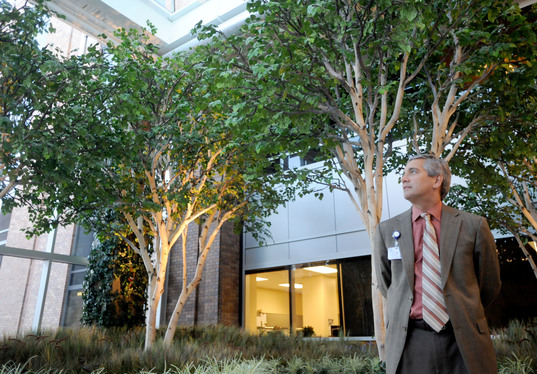 Angela Cesere | AnnArbor.com
The rooms in St. Joseph Mercy Hospital's new tower are ready for patient beds.
The nurse stations are ready for their computers.
And by the time the hospital in Superior Township officially unveils its new completed North Tower for patient rooms in a community open house on April 18, workers will have stocked a small grocery store, completed an indoor meditation garden and wlll be almost ready to open a spa for manicures and massages.
Patients won't move into the North Tower until late May. But the completion of the seven-story building - more than two years after the opening of the 11-story East Tower - brings the hospital close to finishing a $294 million overhaul of its patient care wings and replacement of the former Legacy Towers.
Hospital officials hope the tower, modeled after the East Tower, will improve patient care. The tower is also meant to create an improved experience for patients and employees that could help make the hospital more attractive for both.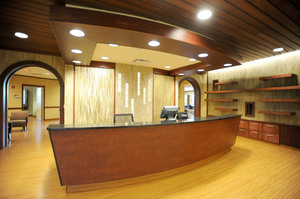 Angela J. Cesere | AnnArbor.com
"This is still a consumer-driven industry," said Rob Casalou, St. Joseph Mercy hospital's chief executive officer. "... You're assuming they're going to take good care of you. You may not be able to judge sometimes the quality of care because you're not familiar with the technical part of it. But one thing you can judge is all of the hotel services that are provided to you, the food, the cleanliness."
Keeping that in mind, he said, St. Joseph Mercy has been trying to walk a careful balance between focusing on quality patient care while adding certain amenities to make a more positive experience for patients, families and employees.
The North Tower adds 500,000 square feet. There will be about 180 beds in the tower making for a total of 573 beds for the hospital, the same number the hospital now has. Part of that total also includes the Select Specialty hospital, an independently owned long-term care hospital is leasing space there.
Angela J. Cesere | AnnArbor.com
The tower will also house the surgical and medical intensive care units, progressive care units, mother and baby units and medical-surgical, neurology and stroke care units. It also houses the rehabilitation unit, which has already opened to treat patients.
The tower also includes a meditation garden to give an outdoor-like respite to anyone who needs a place to get away. On the first floor, it has a multi-use salon and spa.The idea for the business is to be a place for busy employees and patient families who want to quickly get their hair or nails done to have a convenient place to go. But it is also meant, in particular, to offer cancer patients undergoing chemotherapy and going through the experience of losing their hair a safe place to have their heads shaved or learn how to wear a wig for the first time. It also includes a place to grab foods like eggs and milk on the way out the door for those who may not have had a chance to get to the store in days.
On April, 1, a new chapel built as part of the project will open in time to offer Holy Week services. Visitors will begin using the entrance of the North Tower by April 12 and the current main entrance to the hospital will be closed down and demolished during the summer.
Joe's Java, a coffee shop in the current lobby of the hospital, has done well over the past four years and will move to the new lobby. The new coffee cafe will have expanded food offerings and much more space to sit down and relax in a softly lighted area.
"People really appreciate what it brings to our front lobby; the ambiance, the pleasant smells and the kind of respite that come with that," said Tom Tocco, director for facilities and engineering .
By September, construction will begin on a new main entrance into the building.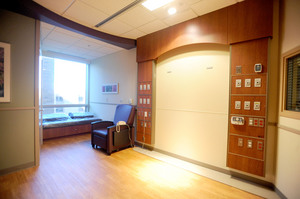 Angela Cesere | AnnArbor.com
The project is coming in a bit under the original estimated costs. The North Tower project, which includes the new entry and the Chapel cost $115 million, down from the $122 million cost that was originally projected, according to previously reported state Certificate of Need records.
The hospital was able to do that, in part, because of employee suggestions of cost-cutting measures, including cutting out cabinetry originally included in the design, Tocco said. The project also benefitted from the weakened economy and was able to get reduced prices on  materials and work. "The best way to put it is that we were able to get a Cadillac at a Chevy price," Tocco said.
Much like the rooms created in the East Tower, the patient rooms have been designed to have soft lighting, individual control of temperature and are completely Wi-Fi connected. All are private rooms and each has a day bed in which a family visitor can spend the night. It's all part of making a more comfortable experience for patients, Casalou said.
"You walk into these old hospitals that were built in the '50s, '60s, and '70s that are still operating today and you kind of walk in there and you go, 'Oh my God. It's cinder block. It's cold, it's sterile. Who wants to be in that? No one," Casalou said. "Semi-private rooms? Who wants a roommate? A lot of times with infectious diseases and things that we have today, you can't even have a roommate. So we're in a different world in terms of what we're delivering and I think what we did here is a nice balance without going over the top."
Tina Reed covers health and the environment for AnnArbor.com. You can reach her at tinareed@annarbor.com, call her at 734-623-2535 or find her on Twitter @TreedinAA.