Posted on
Mon, Mar 21, 2011 : 6 a.m.
The Saner Living Guru: Who will buy this beautiful morning?
By Chris Wucherer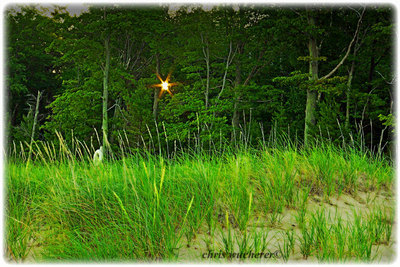 A few months ago, around 4 a.m., I woke up from a feeling dream with an incredible feeling that the day was going to be a special day. I felt excited to be alive and that something absoulutely special was happening on that day.
It felt like Christmas or a wedding or graduation day. My dream had given me the feeling that it was great to be alive.
As I roused myself from sleep, I realized that it was not an 'official' special day, that indeed, it was an 'ordinary' day.
That dream has stuck with me all this time. I think about it frequently and ask myself, "Why can't every day be filled with vibrant energy and a sense of specialness?" I wonder how to keep that sense of aliveness present on a more regular basis.
I am too much of a pragmatist to think that it's possible to feel that way all the time. Life happens, with all of its ups and downs, and it's hard to not get pulled into feelings of stress and worry, a common human affliction.
I do believe that it is possible to feel a vibrant sense of aliveness more than on 'special days'. I do believe that it is possible to feel positive, upbeat and fully alive on a regular basis.
The musical Oliver! has a wonderful song called Who Will Buy, that captures the gloriuos feeling of waking up to a day that feels like it's bursting with special energy
Songs from Oliver - Chorus, various artists
Can you imagine waking up to the feeling that the world is waiting for you to make your mark, to leave your life tracks? As the saying goes, 'The world's your oyster, kid.'
So let's get going and make every morning a glourious morning! It's your life — make it a great one!
Do you feel fully alive and exuberant? How often? What do you do to get and keep feeling fully alive and vibrant?
Use the comment box below to share your answers to these quesitons.
I couldn't resist sharing Aaron Neville's great interpretation of Who Will Buy from Nature Boy - The Standard Album:
Chris Wucherer, a life coach, business coach and psychotherapist, has 28 years of experience helping people create saner lives. She uses a wide array of practical tools, tips and a deep visioning process to help people move forward. Chris firmly believes and practices the principles that saner living makes for great living. She is the Saner Living Guru. Chris writes a blog and has a website. You can reach her at 734-669-7202 or by email.
Chris is