Posted on
Tue, Dec 21, 2010 : 10:41 a.m.
Think the full moon induces labor? That's a myth, University of Michigan doctor says
By Juliana Keeping
Think the full moon last night induced masses of pregnant women into labor?
Think again. That's a myth, said Cosmas Van De Ven, the chief of the division of maternal-fetal medicine at the University of Michigan Health System.
"It's a complete myth, but people keep asking the questions," he said.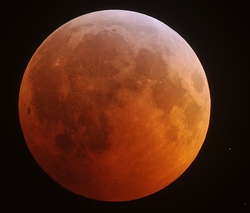 AP Photo | Johnny Horne
Neither atmospheric pressure nor the lunar cycle induces labor, he said. Stormy weather doesn't cause pregnant women to go into labor either, he added.
Associations like those tend to stick, and the questions come up in labor and delivery all the time. Van De Ven cited a few research articles, such as one titled "Birth rate and its correlation with the lunar cycle and specific atmospheric conditions," from the American Journal of Obstetrics and Gynecology to back up his myth-busting regarding the full moon and labor.
He said he would find it much more interesting to explore why women have 28-day cycles, just like the moon.
"Is conception related to lunar cyclicity? Do we behave differently during a full moon?" he asked.
Follow-up question: "So, you mean — sexually?"
"Yes, sexually."
His residents chuckled in the background. Van De Ven took it in stride.
The full moon that occurred Dec. 21 was also timed with a lunar eclipse and the winter solstice.
Van De Ven said he wasn't sure his question about the lunar cycle and conception had been thoroughly researched yet. But he and other maternal-fetal medicine staff might be paying attention nine months from now to observe whether last night's moon could have made more babies than usual.
Juliana Keeping is a health and environment reporter for AnnArbor.com. Reach her at julianakeeping@annarbor.com or 734-623-2528. Follow Juliana Keeping on Twitter