Posted on
Mon, Apr 19, 2010 : 9:14 a.m.
Top 5 spring races to run near Ann Arbor
By Chelsea Hanson
One of the best ways to keep a consistent running plan is to have an end goal in sight. What better way to do this than to sign up for a race? In the spring, races pop up just about as frequently as your perennials, and can be a great way to motivate yourself to get those weekly miles in. Here are a few of my favorite spring races nearby:
1. Trail Marathon/Half Marathon and Road Ends 5-Mile
April 24/25, Pinckney Recreation Area
If you're looking for a race that's down and dirty with hills, rocks and maybe a few mountain bikers, sign up for the Trail Marathon on April 25. This race, in Pinckney Recreation Area, is one of the toughest race courses in the area. The single-track trail, winding turns, and steep hills make this course challenging. The relaxed pre- and post-race atmosphere, however, create a laid-back environment that is perfect for a run where a PR is in your wildest dreams. This race is so popular that the full and half marathons sold out about a month before the race. Don't worry, the five-mile is still open and has just as many hills!

2. Burns Park Run

Photo from www.burnsparkrun.org


May 2, Ann Arbor
For a fun neighborhood race, look no further. The Burns Park Run is a great first 5K or 10K and is also a great race to begin the season. The weather is usually perfect, with temperatures just chilly enough for some good running. The course is flat at first, with a challenging hill or two just near the end. The race starts and ends at Burns Park Elementary, and you and your kids can run together; this race is very kid-friendly.
3. Dexter-Ann Arbor Run
June 6, Ann Arbor
When driving down Huron River Drive from Dexter to Ann Arbor, it is easy to miss the rolling hills and beautiful views of the Huron River. When running the Dexter-Ann Arbor Run, these sights only add to the enjoyment of this race. After you've taken in the scenic views of the Huron River, you'll run into downtown and finish on Main Street. You can grab a few post-race snacks or continue down Main and enjoy the treats of Taste of Ann Arbor.
4. Women only 5K
May 6, Ypsilanti
This race, which winds around a beautiful paved trail at St. Joseph Mercy Hospital in Ypsilanti, is one of the only races in the area just for women. The race starts at Ellen Thompson Women's Center at the hospital, and is a fast, flat course. A women's only race is empowering for women and draws a great gathering of the area's female runners of all abilities.
5. Flirt with Dirt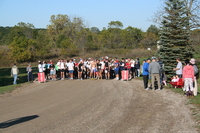 Photo by Scott Hanson


June 12, Novi
If you're newer to trail running, this is a great race to start with. Flirt with Dirt is held at Lakeshore Park in Novi, where there are over 10 miles of winding trails. You can run the 5K or 10K, and the park is less hilly than others in the area. The winding trails make this a technically difficult course, but it is fun and laid-back, as trail races should be! Because the park is small, the race fills up quickly so sign up early!
These are some of my favorite spring races near Ann Arbor. If you're looking for a good race to run this spring, you can go to www.runmichigan.com for more races!
Chelsea Earls is a runner and works at Running Fit in Ann Arbor. She can be reached at chelsea.earls@gmail.com