Posted on
Thu, Feb 24, 2011 : 6 a.m.
Two years out of Ford Motor Co. - Life with Senior Helpers is better than OK
By Alan Caldwell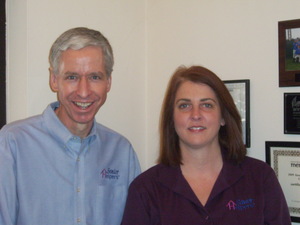 photo by Faye Molitor
Two years ago this month, I was a casualty of the recession and was "involuntarily separated" from my job at Ford Motor Credit. I had 22 years service at Ford Motor Co. and its subsidiary Ford Motor Credit Co.

It would be hard to imagine a bigger career change than from Ford to my work life today. Very soon after I was let go, I decided to open a home care business, Senior Helpers (locally-owned, although part of a national organization). I wanted to do something different, a job that was not corporate and one that felt personal. It's not that I disliked my position at Ford. In fact, I always liked working at Ford. It was just never something I was passionate about.
In July 2009, we opened our non-medical home care business. I describe our business as the first rung on the health care ladder. It's helping people stay in their home, helping with bathing, mobility assistance, whatever people need. It is rewarding and very fulfilling work. I truly love this new career I've found.
There are so many wonderful and caring people in the senior living field. It is a genuine privilege to be a part of this group. While there are numerous competitors in every aspect of the industry, folks are always warm, welcoming and willing to talk. We all just want to help seniors live a good quality of life.

For our company, my best decision was choosing our very first hire, Sheila Doeden, our client service director (and more recently co-owner). Sheila has a wealth of home care experience, and, combined with my management background, we have a skill mix that is helping grow the business. We provide care to a large number of families, and we're currently providing meaningful employment to 58 people, including many working full time.
This venture is really not about making money. It's about providing caring service and appreciating the non-financial rewards that come with that. It's about training and education and community involvement. And it's about fully sharing any financial success with all employees.
It was scary losing the security of Ford Motor Co. Now, it's much scarier for me to think about never having this opportunity — this second career I totally love.

Alan Caldwell is the majority owner of Senior Helpers, providing in-home care services, primarily to the elderly. He can be contacted at acaldwell@seniorhelpers.com, or at 734-927-3111.