University of Michigan alum and CNN correspondent Gupta reporting, treating wounded in aftermath of earthquake
Posted on Thu, Jan 14, 2010 : 5:20 p.m.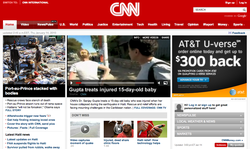 CNN medical correspondent Sanjay Gupta, a University of Michigan and U-M Medical School alum, is reporting and treating people who were wounded earlier this week in Haiti in the aftermath of Tuesday's deadly earthquake
Today, Gupta posted video reporting from Port Au Prince, the Haitian city that received the brunt of damage and casualties from a 7.0 earthquake that struck the poor Caribbean nation earlier this week.
See video of Gupta treating a 15-day-old baby below.
Earlier this year, Gupta returned to Ann Arbor to give the address at the medical school commencement.