Posted on
Mon, Sep 12, 2011 : 5:57 a.m.
Assisted living community connects with university students
By Alan Caldwell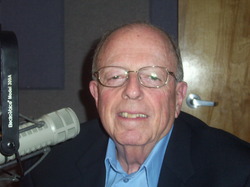 We welcomed Dr. Richard Adelman to the radio program this past weekend. Dr. Adelman, professor emeritus from the University of Michigan, was formerly the director of the Institute of Gerontology and is now the director of University Relations at University Living in Ann Arbor.
He has been involved with University Living since before it was built 11 years ago. The developers wanted to create unique programs that linked the University of Michigan to the residents of University Living, very progressive for a senior living community.
Dr. Adelman has developed several different intergenerational programs at University Living. Through those programs, visiting university students interact with and build relationships with the elderly residents.
The theme for the intergenerational discussion this year is 'contemporary conflicting attitudes about homosexuality.' We all agreed this topic would probably lead to some healthy discussions. The attitudes about homosexuality tend to be rather different between the younger and older generations.
Dr. Adelman wants to get multiple generations together, to learn from each other and about each other. Most university students have not interacted with seniors before, other than within their own family. The students come with the traditional prejudices —that seniors are conservative, losing their memories, weak and uninterested. They find the University Living residents are quite capable of holding their own.
Dr. Adelman has also introduced the Learning to Love Opera series, which provides an opportunity to expand one's cultural horizons. The programs are open to the public, through Ann Arbor's Osher Lifelong Learning Institute.
To listen to this 11-minute discussion please the audio link:
To contact Dr. Adelman, you may e-mail radelman@umich.edu. To contact University Living, call 734-669-3030, or visit the website univliving.com.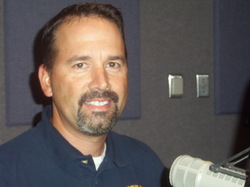 Photos by Sheila Doeden
Our second guest was Britt Michel, the Transitional Therapy Program director for the Physical Medicine and Rehabilitation Department, with the University of Michigan Health System. This organization is housed right next door to University Living in the Burlington Building at 325 E. Eisenhower Parkway. Their focus is primarily helping those with back pain and older patients.
Britt's program is working to address an underserved population. Within the growing baby boom population, there are those graduating from physical therapy care who can likely benefit from a continuing structured fitness program.
Britt's fitness center has Functional Fitness for Older Adults classes. This is specifically for seniors, led by clinical exercise physiologists. These classes last eight weeks, meeting for 90 minutes, twice a week. While the classes are not covered by insurance, they are very reasonably priced.
It's $170 for your first eight-week course, including a one-hour personal assessment, and a one-hour individual orientation to the fitness center. Renewal courses are only $100.
To get started you need an exercise clearance from your physician, usually just an e-mail. They currently have more than 50 participants across five classes. Britt talked about the camaraderie that develops in each class. People get to make new friends and maybe get reacquainted with old ones.
Britt shared that, while the youngest in the classes is 65, the oldest is a 98-year-old woman. She has been with the program for over 10years. "She's a great example of how you stay with it."
To listen to this 14-minute discussion, click the audio link:
To get in touch with Britt, you may e-mail brittm@med.umich.edu, or call the Physical Medicine and Rehabilitation Department at 1-734-763-4990, or access their website at med.umich.edu/pmr.
Alan Caldwell and Sheila Doeden co-host Everything Elderly every Saturday morning at 8:30 on 1290 WLBY. In their day jobs, Alan and Sheila co-own and co-manage Senior Helpers, providing in-home care services, primarily to the elderly. Both can be contacted at homecareexcellence@seniorhelpers.com, or at 734-927-3111.