Posted on
Mon, Nov 21, 2011 : 5:57 a.m.
'Learning to Love Opera' program is a favorite at local senior community
By Alan Caldwell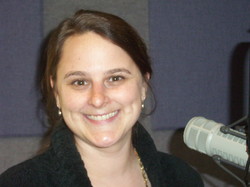 We had two good friends on the show this past weekend. We first chatted with Maureen Pawlak, the activities director at University Living. University Living is located at 2865 South Main Street, very near Briarwood Mall. The community offers independent and assisted living, as well as dementia care.
Maureen gets to plan and schedule all the fun activities at University Living. The schedule is always full and includes such activities as music performances, arts and crafts, trivia games, current event discussions, gardening and a new book club.
One of the prominent activities is the Learning to Love Opera Series, hosted by Dr. Adelman, professor emeritus from the University of Michigan. This program is a definite resident favorite. The participants learn about different operas and then get to enjoy these musical events via live transmissions of New York operas to local theatres.
Maureen spoke about all the volunteers that engage with their residents. Most of the volunteer groups are from the local colleges. The University of Michigan has many students that come and visit with the residents, including those studying psychology and social work, as well as students from the Kiwanis Circle K Club and several sororities. They even have law school students visiting for discussions on legal topics.
It really is a win-win with these volunteer programs. The residents, of course, enjoy the company, and the volunteers learn and grow from the interactions with the seniors as well. To listen to our 12-minute discussion, click the audio link:
To get in touch with Maureen or University Living, call 734-669-3030, or visit their website univliving.com.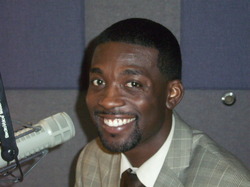 Photos by Sheila Doeden
Kino Smith, the operations coordinator with the Resource Hub joined us next. Kino is our newest friend! He was such a delight to meet and have on the show. His enthusiasm and passion for his organization is quite infectious.
The Resource Hub works to combine and utilize the resources of more than 700 different nonprofit organizations. They have a small administration staff and a large army of volunteers. They are housed in downtown Detroit, in the old trolley plaza building. Their goal is to service not only southeast Michigan, but all of Michigan.
They work to help seniors and those with disabilities. The goal is really to "teach people how to fish, not just hand out fish." They try to help folks with whatever needs they have - food, clothing, keeping the utilities turned on, medical needs, transportation, whatever.
Kino talked about how they help individuals but also spend a lot of time talking with nonprofit organizations (there are 47,000 registered nonprofits in the state of Michigan). The hope is to bond different organizations together. Kino likes to emphasize "the we mentality, instead of the me mentality." The groups they work with include The Salvation Army, St. Vincent De Paul, Catholic Social Services and the Department of Human Services.
The Resource Hub is also involved with a new internet initiative, LookUpDetroit.com. This new website is a central location for various community resources, and is becoming a terrific help for those looking for assistance. To listen to this 13-minute talk, click the audio link:
To contact Kino Smith or the Resource Hub, please call 313-701-8787, or e-mail resourcehub1@gmail.com.
Alan Caldwell and Sheila Doeden co-host Everything Elderly every Saturday morning at 8:30 on 1290 WLBY. In their day jobs, Alan and Sheila co-own and co-manage Senior Helpers, providing in-home care services, primarily to the elderly. Both can be contacted at homecareexcellence@seniorhelpers.com, or at 734-927-3111.