Posted on
Tue, Dec 13, 2011 : 5:58 a.m.
University of Michigan ceases use of cats in Survival Flight training
By Kellie Woodhouse
The University of Michigan has stopped its controversial use of live cats during Survival Flight training exercises.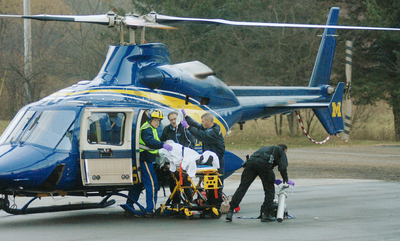 AnnArbor.com file photo.
The U-M Health System now uses robotic simulators in place of live cats. The switch, made after the last cat was used in July, came after more than 18 months of heated criticism from People for the Ethical Treatment of Animals and other animal rights activists who contend that using cats is unethical.
That criticism included a picket in February and a petition in May that included 100,000 signatures and called for U-M to stop using live animals in training for its Survival Flight program, an emergency air transport service.
"Simulators have reached the point where we can actually make substitutions," said Brian Fowlkes, U-M's executive director for animal care and use. Fowlkes said UMHS refrained from using simulators until hospital officials felt the technology was fully developed and tested.
Cats and pigs are used in Survival Flight training to simulate procedures done on infants. The cats were used for their windpipes and airways and the pigs are largely used for their lungs.
Fowlkes said the switch to simulators was not influenced by push back from animal rights activists.
"You're always looking at the situation to determine what's going on," Fowlkes explained. "It wasn't a direct response to the PETA activities. ... We made the switch based on the evolution of the simulators."
Justin Goodman, associate director of laboratory investigations at PETA, said simulators have long been in the "medical mainstream" and are adequate for the Survival Flight training. He believes PETA's persistence in protesting animal use in the training had a larger influence on the switch than U-M officials are willing to admit.
"This was a change that they've been fighting tooth and nail," he said.
In September 2010, UMHS claimed there was "no substitute" to using live animals in Survival Flight training.
"Despite the availability of simulators and other teaching aids, the unique environment in which Survival Flight nurses work requires these procedures to be performed using live tissue," UMHS said in a statement then.
From 2002 to 2011, UMHS used 23 live cats in its Survival Flight training. Sixteen cats were adopted, while seven were euthanized.
Recently, PETA obtained documents through Michigan's Freedom of Information Act that revealed U-M had euthanized two of the three cats it used in Survival Flight training in 2010.
That's in contrast to a UMHS official claiming no Survival Flight cats were euthanized in a letter to the editor published in the Michigan Daily.
Fowlkes said the letter contained a mistake due to a "miscommunication" within UMHS. He said UMHS was updated with correct information in August when the mistake was discovered.
"We obviously clarified it on the website subsequently," he said.
With the cats removed from training, UMHS spends about 1.5 hours of the 160-hour Survival Flight training using live animals.
UMHS has no plans to stop using live pigs, which are used to train for procedures dealing with the lungs. Fowlkes said simulator technology is still developing and being tested.
Goodman said simulator technology is advanced enough to replace the use of live pigs. He said the university's medical school used simulators to train students on the same procedure.
"They teach trauma surgeons the skills using the simulator and then they're using a pig to teach the same skills to nurses," Goodman said. "It just doesn't make sense."
The difference, UMHS contends, is that physicians participate in a lengthier and more comprehensive training.
"The important thing is that the development of methodology has to be tested and verified so we know that it's working and would be suitable for the training," Fowlkes said.
Kellie Woodhouse covers higher education for AnnArbor.com. Reach her at kelliewoodhouse@annarbor.com or 734-623-4602 and follow her on twitter.