Posted on
Sun, Feb 27, 2011 : 5:50 a.m.
Use nature to guide yourself into meditation
By Susan Scott Morales, MSW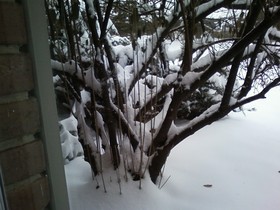 Photo by contributor Susan Scott Morales
As I write this, I'm looking out my office window at a viburnum tree. Stalks of new growth from last fall shoot up from the ground. Tenacious dark green leaves cling with tips pointed down, some entrenched in snow from last night's storm.
The boughs branch out from the base looking like they're topped with whipped cream, the snow is so light and fluffy. It's not the most beautiful tree — kind of scraggly in fact — but its stillness is breathtaking. And it brings me to stillness.
If you're near a window, or better yet outside, as you read this, what in nature captivates you? If you're not able to see the natural world right now, imagine it. In your mind, go to a place where you've experienced peace. Use all your senses. Perhaps you hear ocean waves gently lapping the shore, leaves rustling on the forest floor or birds chirping in early spring. It might be some movement to which you're drawn — a chipmunk's tail flitting, the clouds floating by, the trees swaying.
Whatever it is, allow yourself to become absorbed in the feeling of being in nature. As the scene plays out before you, your thoughts become quieter. If your mind wanders, bring it back to the enjoyment of nature.
With each breath, your body relaxes more. Let yourself drop into the peace of meditation, enjoying your own inner nature. Breathe easily and meditate.
Susan Scott Morales is a meditation teacher, psychotherapist, published poet, novelist, and community contributor to AnnArbor.com. Tweet her @susanscottmoral, reach her at susanmmorales@yahoo.com or visit her website, susanscottmorales.com.