Posted on
Wed, Dec 14, 2011 : 9 a.m.
Washtenaw County Public Health and Children's Services partner to improve food served at Washtenaw County Youth Center
By Washtenaw County Public Health

This year, an unusual partnership formed to take on a challenging issue: food served at the Washtenaw County Youth Center.
Although the food tasted good, a menu analysis showed high levels of fat, sugar and salt. Staff members also speculated that some youth with extended stays gained weight while at the center.
"After learning more from our menu analysis, it prompted our staff to examine the nutritional quality of the food we're serving. Eating habits certainly have an impact on behavior, readiness to learn and overall well-being," says Kevin Mitchell, business manager.
At the same time, Washtenaw County Public Health (WCPH) was looking for a County facility serving meals to pilot sourcing food from local farms and vendors with an emphasis on fruits and vegetables.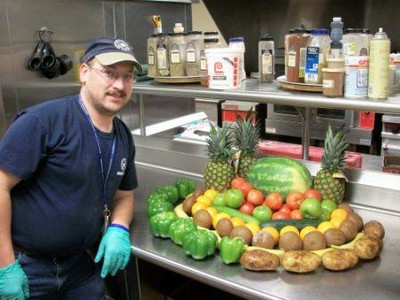 "More and more local farms are supplying schools and businesses with fresh produce and other food. Sourcing locally helps our economy and promotes healthier eating," says Jenna Bacolor, program supervisor in the Health Promotion/Disease Prevention Division. Working together, staff members at WCPH and Children's Services tackled both issues and worked to source more food locally and make snacks and meals healthier.
Using grant funding from the Michigan Department of Community Health's Building Healthy Communities program, WCPH contracted with a registered dietitian to look at existing Youth Center menus and suggest healthier snacks and meals.
The local food sourcing aspect of the project really took hold when Michaelle Rehmann of the Food Systems Economic Partnership got involved. As the Farm to Institution Coordinator for FSEP, Michaelle offered a wealth of knowledge about policies and systems needed to connect local farmers with institutions. She worked with Kevin to craft a Request for Proposal for food service that required vendors to disclose where fruits and vegetables are grown and to invite local vendors to submit proposals.
With Kevin's leadership, staff at the Youth Center are now purchasing and serving whole grain breads and pastas, more fresh fruits and vegetables, healthier snack options and using the fryer much less often. The Youth Center Kitchen staff has been instrumental to the implementation of fresh fruit and vegetables into the menu. Everyone is enjoying the new food, with very few complaints about the changes.
Unfortunately, no local farmers bid on the revised RFP for food service. Michaelle cautioned the team not to be too discouraged — it is common for local vendors to be wary of government contracts; however, if we build relationships over time, they will be more likely to submit a bid next time.
Over the next year, all partners involved are committed to making connections and fostering relationships with local farmers and vendors. Kevin sums up the project this way: "A good diet with nutritious food is vitally important. Our collaboration with Public Health and FSEP has been essential in making significant strides to improve the health of the youth we serve."
Jenna Bacolor is a Program Supervisor at Washtenaw County Public Health.