Posted on
Sun, Jan 30, 2011 : 6 a.m.
When meditating, sometimes less effort pays off
By Susan Scott Morales, MSW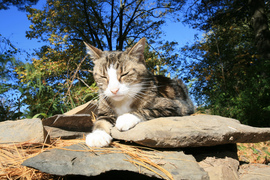 Photo by Flickr user aturkus
We're so indoctrinated to put effort into everything we do. Do you remember those grades in elementary school? "A" for effort, "B" for achievement. When it comes to meditation, the effort is simple:
decide to do it
. The decision tells your brain, with all its activity, to step aside.
My students often ask, why isn't anything happening when I meditate? I have three answers for that:
1. How do you know nothing is happening? There might be a lot going on that you're just not aware of. As we relax, many chemical changes take place in our bodies. Yet we aren't necessarily aware of them. The more you meditate, the more aware you become of subtleties that you couldn't perceive before.
2. If you are "trying" to meditate, that means you're not letting go. There is tension in evaluating your meditations; you're using your analytic mind. This is the most common problem I've observed for relaxation and meditation. If we're thinking about what we're doing, we can get in the way. For example, if I tell myself not to double fault in tennis, I'm likely to do it. If I visualize making an ace, I serve much better. My experience tells me that the visualizing part of the brain supports relaxation, and the analytic part increases tension in the body.
3. Letting go takes practice. As you relax, your body starts to send many signals to your brain and visa versa. The more you meditate, the more those signal pathways are established. The more you relax, the greater results you have with meditation.
Each of us has different ways of relaxing, letting go of stress. I'm a big fan of meditating because it is always available, it makes it clear when I'm having difficulty relaxing — which I can sometimes ignore, and it teaches me how to let go and simply be with myself in a non-judgmental way. Like the cat in the photo.
Susan Scott Morales is a meditation teacher, psychotherapist, published poet, novelist, and community contributor to AnnArbor.com. Contact her at susanmmorales@yahoo.com or visit her website: susanscottmorales.com.