Posted on
Mon, Dec 5, 2011 : 1 p.m.
When you walk out of exercise class during cool down...
By Eva Johnson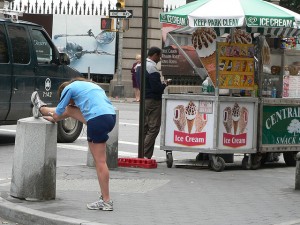 photo by flickr user Geff Rossi
I get sad. I get confused.
Yes, you are a busy person and you have to get to work or collect the kids. Maybe you need to run to the bank or get a coffee. Maybe you just hate the cool down. You probably think it is a waste of time, since it isn't really burning many calories, right? Or, maybe this class was just too long, and you are bored.
Why should you stay for the stretch and cool down? Well, for starters, it is a great reward for hard work. Now that you have fatigued your muscles and worked your heart, you get to slowly enjoy those endorphins and just relax. It feels good! Reward yourself with a few minutes of non-impact activity before you get going on your day again.
Another great reason to stay for a cool down is to bring your heart rate down slowly. When you stop immediately after a vigorous workout, this is stressful on your heart, possibly putting weak hearts at risk. This is because a relatively high concentration of adrenaline remains in the blood from the conditioning exercise.
Not good. Take your time and slow down, uh, slowly...
My last thought is about stretching. Stretching seems also to be so repetitive, doesn't it? Why do it?
Well, if you just strengthened those muscles, you should stretch them too. It makes them not only stronger, but elongates them as well, making us look toned and lean. Enjoy this time to get more flexible because we all want to be flexible and loose, don't we?
So stick around, enjoy the entire workout. You really didn't need to bolt that fast!
Eva Johnson is an ACE (American Council on Exercise) certified personal trainer, who will be taking her own stretching advice...tomorrow. She lives in chaos with her husband and two boys. To see her complete blog about how to stay sane and in shape in the real world, visit www.fitnessbyeva.com.