home & garden:

8th Annual NARI Tour of Remodeled Homes Showcases Top Remodeling Projects

Posted on Sat, Apr 30, 2011 : 6 a.m.
Spring is in the air, and homeowners are starting to plan their home remodeling projects.
What better way to get ideas for your home and meet the area's top remodelers than the eighth annual NARI Tour of Remodeled Homes on May 14 and 15 featuring recently completed projects for walk-throughs and an opportunity to meet the leaders in the remodeling industry. Enjoy this sneek peek into some of the homes!
Whole House Renovation by Dexter Builders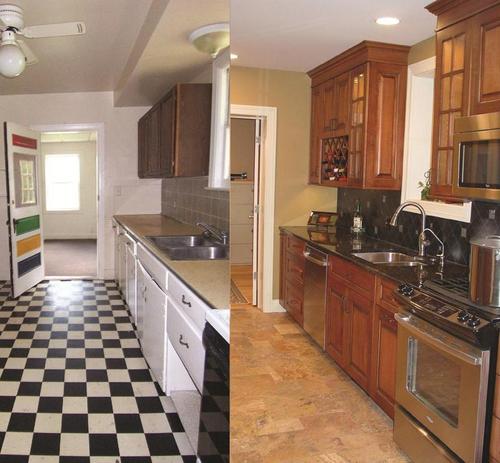 This project is a complete remodel of a 1930s farmhouse. The original structure is said to have burned in the late 1920s, and the family rebuilt a concrete block structure on the existing stone foundation.
Dexter Builders completed a total renovation of and addition to the house. On the exterior, Dexter Roof and Siding added a tasteful hip style roof to the flat roof, installed James Hardie Siding and Pella windows. Dexter Block repaired and expanded the stone walls and installed new patios and paths.
Work on the interior included completely remodeling the kitchen and two baths with new custom cabinets, plumbing fixtures, granite and tile. In other parts of the house: floors were refinished or replaced; trim and doors were added or refinished; and the electrical, plumbing, and heating/cooling systems were replaced. Comparing the before photos to the finished product truly shows that any structure can be turned into a gem.
Remodel / Addition by Architectural Resource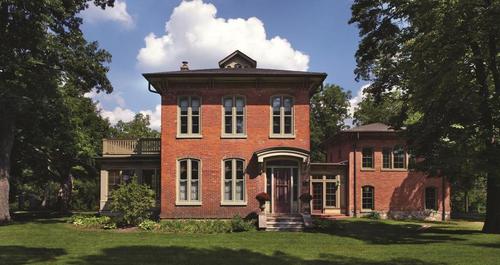 The proud owners of this landmark 1860s era Italianate home desired to greatly improve the home's entrance and exit areas. With a growing young family, the lack of a proper entry area and attached garage was something they wanted to address. They also needed a guest suite to accommodate frequent out-of-town guests and visitors.
But in the homeowner's own words, "He didn't want to be known as the guy who 'screwed up' this beautiful old home".
The design challenge was to provide the needed space of a significant addition, but do so in a manner that would respect the historic home. The design solution lay in providing a "hyphen": a multi-functional daily entry breezeway connector linking the main house with a new garage and in-law suite above.
Kitchen / Bath / Exterior by Valley Builders
Photo provided by Valley Builders
This charming quad-level home received a facelift both inside and out. A fresh roof, brand new vinyl siding and aluminum soffits highlight the exterior of the home. New Andersen windows and sliding glass doors allow plenty of light to accentuate the accompanying full kitchen remodel.
The space features quiet and durable 16x16-foot DuraCeramic tile flooring, Merrillat cabinetry, Cambria quartz countertops, a subway-style tile backsplash, and bright new paint throughout. Down the stairs reveals what was once a small, crowded half bathroom. The space has grown significantly and now includes a fiberglass surround shower where a closet used to be.
Also be sure to admire the refinished oak hardwood on the stairs leading to the home's top floor and the deck off the kitchen which was created using "low maintenance" and greenfriendly AZEK decking. This home enjoyed a sharp makeover while maintaining affordability and classic style.
Stay tuned for a peek into the other homes on the tour!
In the meantime, click here to download the 2011 Tour Guide or get more information about the tour.
Tickets are $10. Purchase tickets at any tour home. Tickets are valid for both tour dates and provide entrance to all tour homes.
NARI members represent a select group of 60 companies and individuals in Southeast Michigan identifying themselves as professional remodelers. NARI is a professional association whose members voluntarily subscribe to a strict code of ethics. Consumers may wish to search www.NARIsemich.org to find a qualified professional who is a member of NARI.