Posted on
Thu, Nov 17, 2011 : 5:58 a.m.
A 'blooming miracle': Volunteers mount remodeling effort that allows woman with polio to stay in her Ann Arbor home
By Janet Miller
Janet Miller | AnnArbor.com
Liina Paasuke hasn't allowed polio to stop her from leading an independent life: She learned to drive using hand controls, she graduated from the University of Michigan, she helped raise a foster son, she had a long career as a rehabilitation counselor.
But in the summer of 2010, all of that was in jeopardy.
Post-polio syndrome -- increasing weakness, fatigue and pain that appear long after the initially contracting polio -- was threatening to steal her independence, forcing her to use a scooter most of the time.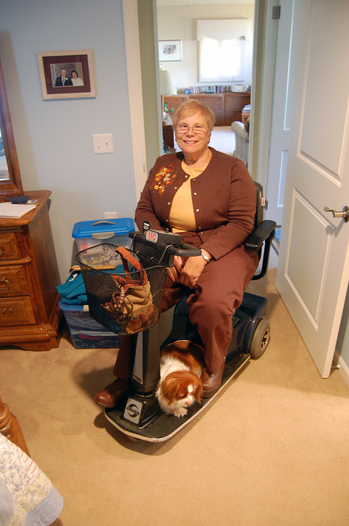 Janet Miller | For AnnArbor.com
It was becoming impossible for Paasuke, who lives alone, to remain in her Revena Place house on the near northwest side of Ann Arbor. It was dangerous lifting hot things out of the oven in her cramped kitchen, her bedroom was too small to maneuver the scooter and taking a bath had become impossible. She'd resorted to sponge baths. Living in the house had become dangerous.
Yet, she didn't want to move into an assisted living apartment. "I'm basically a feisty individual. I didn't feel I was ready for that," said Paasuke, who is retired.
She began thinking about remodeling her three-bedroom ranch to adapt for her physical challenges, but limited funds made it impossible to get everything she needed. "I was overwhelmed," she said.
Her frustration spilled over when she attended a church group at First Congregational Church in Ann Arbor. The group had decided in lieu of a Christmas gift exchange, they would contribute to a church project, said Anne Harrington, a member of the group.
Then Paasuke's situation presented itself.
"Liina couldn't get into her bedroom. You can't see something like this and not do something," Harrington said.
The stars began to align themselves: Architect Scott Allen was a member of the church and volunteered his services. A friend had introduced Paasuke to someone who had finished an adaptive remodeling project who used the services of interior designer Nancy Krzesicki, who would go on to volunteer her services. And the church mounted a volunteer corps.
"Looking back, it was just a blooming miracle," Paasuke said. "It's not only a functional home, it looks nice. It was like getting a big group hug, so many people were so generous."
Over the summer, about 40 volunteers worked along side the Valley Builders workers, demolishing the old kitchen, painting and installing the electrical system. A silent auction at the church raised $10,000 for the project and Paasuke re-mortgaged her house to pay for the rest.
Paasuke figures the volunteers reduced the project cost by about 30 percent. "I could never have done this without their help," she said.
A non-slip floor was installed in the kitchen for the times when Paasuke gets out of the scooter and uses braces and crutches. A slippery floor can become a tragedy. "Crutches automatically divine to any water speck on the floor," she said.
The kitchen was gutted and cabinets, positioned low enough for Paasuke to reach, were installed. Pullout shelves that lower to scooter level were built inside the cabinets. A cook top that she could reach was installed and a separate oven, with a door that opens on the side rather than down, was also installed. A microwave oven was placed below the countertop.
Janet Miller | For AnnArbor.com
Walls were knocked down and two small bedrooms were made into a one roomy master suite with closet space, a built-in armoire and a new bathroom with a state-of-the-art by Kohler bathtub. The tub, which Paasuke named "Goldie" because it cost as much as gold, has a drop-down side that allows Paasuke to enter. A walk-in shower wouldn't work, she said, because she needs to soak her feet for therapeutic reasons.
And the washer and dryer were moved to the master suite bathroom to make doing laundry easier. "That way, I don't have to lug stuff through the house," she said.
Paasuke's story, Harrington said, not only calls attention to post polio syndrome, but also brings attention to remodeling alternatives that allow people to stay in their homes.