Ann Arbor Native
A native coverup: Ground-covering plants that do the job
Posted on Wed, May 26, 2010 : 10:14 p.m.
Since this is a blog about using native plants in the landscape, we need to get applied here. A few weeks ago we talked about some native shrubs that would be nice additions to your yards. Well, today let's get down and dirty and drop to our knees to observe some natives that make great groundcovers. Who needs mulch when you have these?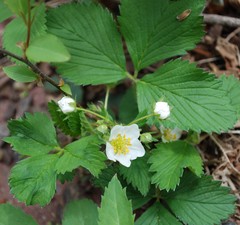 Rick Meader | Contributor

For groundcovers, you want something that will fill spaces and look good doing it. You want something that can keep some weeds out, so you can spend more time observing your plants than rescuing them. Ideally, they'll even add some color at times. So, I offer you wild strawberry (Fragaria virginiana), Common cinquefoil (Potentilla simplex) and Wild ginger (Asarum canadense).


Wild strawberry (Fragaria virginiana) has a lot of things to offer. It is an early bloomer, showing pretty white flowers in April. Those flowers become small (1/2 inch or so, max), flavor-filled berries that are fun to snack on in June. It spreads readily via runners in the right conditions (partial to full sun) so you don't need to spend a fortune to get a good cover relatively quickly. It doesn't completely lose its leaves, which turn red/purple in the fall, so there is something besides bare vines to see through the snow. It only gets about 6" tall, and its cover isn't so dense that other plants can't grow through its cover. But it is dense enough to limit the number of weeds growing in an area. You may have to occasionally hack it back as it does send its runners every which way, even in areas where you don't want it, but it's an easy task. It's also a great plant for sharing with others. Aside from food, it was also used by Native Americans as a treatment for diarrhea and jaundice, and it was kept in the home by the Cherokee to ensure happiness. I like them as an accent for my cereal.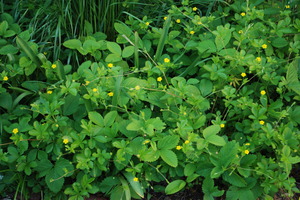 Rick Meader | Contributor
Common cinquefoil (
Potentilla simplex
) is another vine with five-lobed leaves and bright yellow, 1/2 inch to 3/4 inch flowers that are blooming now. This plant gets a bit taller than wild strawberry, but also likes sun to partial shade, and spreads by runners like wild strawberry. When you get a good cover of it, it's like a constellation of yellow above a sea of green. Unlike wild strawberry, this not only produces delicious fruits, but also a fairly dense cover that also lets some other plants survive along with it. In fact, Bill Schneider of Wildtype Nursery introduced me to the idea of combining the two as a groundcover dynamic duo. Both grow in similar conditions, and intertwine to provide a very effective, attractive and multi-level (on a low scale) groundcover that has two blooming periods. Not bad for a couple of fairly common, diminuitive plants.
Wild ginger (Asarum canadense) is a plant for shade. It seems the darker the shade, the better it will do. It likes fairly rich, moist soils, but mainly it likes shade. If it gets a lot of sun, the dark green leaves seem to turn a lighter shade of green. It is also a great spreader, but doesn't have the reaching power of wild strawberry, so it is easier to keep in its place. It can form a pretty dense, very low (6" or less) cover but again, some plants can find gaps in its armor so its cover isn't ironclad. In my partially shady front yard, it forms the base for that keeps the weeds quite limited, but allows goldenrods, maidenhair fern, and Mayapple, among others, to work their way past their spade (as in playing cards) shaped, 4-5" diameter leaves toward the sun. As it doesn't form deep roots, long hot dry spells can really make them wilt. Adding water, either through hose or through rain, will bring them back. You don't get this plant for its flowers, but if you get down on your knees and lift up a leaf, you can see an interesting, hairy brown flower, yawning open for small flies or ants to help fertilize it.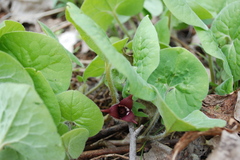 Rick Meader | Contributor
As with bloodroot and Dutchman's Breeches, ants carry the seeds back to their farms to feed on the oily eliasome attached to the seed. Some ants have been at work in my yard, because the neighbor across the street now has a small cluster of wild ginger where there was just bare dirt before. This plant could be a good substitute for Lily-of-the-valley if you don't need the fragrant bell-shaped flowers of the latter.
Blooming in my yard this week are: Common cinquefoil, False Solomon's Seal, Wild Phlox, Pagoda Dogwood, Wild ginger, Black raspberry, Wild geranium, Hairy Sweet Cicely, Horse gentian (aka wild coffee), Golden Alexander and Carrion flower.
Rick is a local landscape architect with a special interest in all things natural, including native plants and the critters that eat them. You can contact him at yourland1824@gmail.com.