Posted on
Thu, Dec 22, 2011 : 5:57 a.m.
Ann Arbor architectural historian turns to the past to create color schemes for homes
By Janet Miller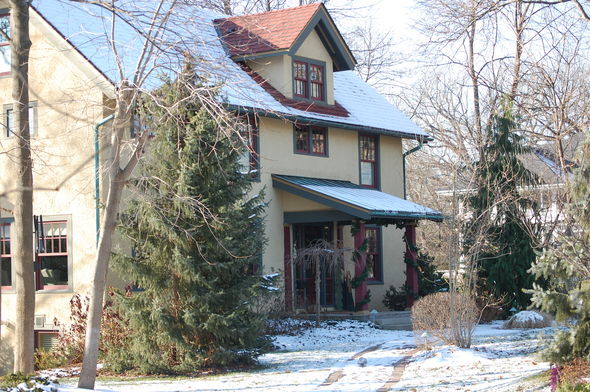 Janet Miller | For AnnArbor.com
Rob Schweitzer
is a colorful character.
The Ann Arbor-based architectural historian has been the exterior color consultant on close to 1,000 homes across the country and around the world, from Queen Anne's to Craftsmen to a housing cooperative here in Ann Arbor. While he makes sure that blue houses don't have brown roofs, he also insures that the colors are historically accurate.
Janet Miller | For AnnArbor.com
Using hundreds of original sources - he has, for example, Sherwin Williams color charts with original paint chips from the late 19th century - Schweitzer has helped return heritage houses to their original beauty.
For example:
He worked on an ornate 1856 Italianate home with original cupola that won the Chicago Painted Lady contest.

He turned a run-down Victorian in Oregon with a lifeless pinkish/white exterior and trim lost to a boring paint scheme into a show-stopper. The house was painted in shades of green and gold with trim painted in darker shades of green, reds and white.

He worked on an1860 Italianate in New Jersey that was painted solid white, right down to the shutters and windows. Schweitzer replaced it with a warm taupe and traditional red and green highlights.
But Schweitzer works on more than the historic gems. A client in Los Angeles wanted their modern house to stand out and called Schweitzer in to consult. "They wanted to have the best-looking house on the block," he said.
Selecting color can be the hardest part of a project. There was the couple that called Schweitzer in after selecting a color that looked light gray on the paint chip but turned out to be lavender. "There can be expensive mistakes," he said.
The housing boom of the 1990s produced a monotonous sea of taupe exteriors, Schweitzer said. "They're even called taupe towns. They were just ugly, with no detail. Everything was one color, even the corner boards."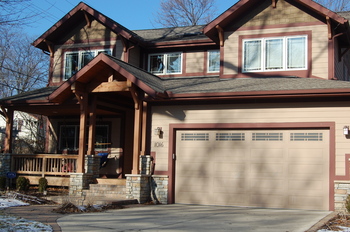 Janet Miller | For AnnArbor.com
But before that, Americans since the Civil War (when the paint can was invented, making house painting easier) were a zesty lot when it came to house colors: A Queen Anne from the 1880s could have a dozen colors in a wide spectrum of light and dark shades, but never white. The Italianate style leaned toward dark and warm colors of browns, russets and olives. And the Arts and Crafts era brought in autumnal hues of gold, greens and browns, but colors not as deep as Italianate.
As homeowners hunker down and improve their existing homes, they are turning to more color, Schweitzer said. "People are starting to put color on these houses to make them more dramatic."
Schweitzer consulted on color selection for Colonial Square Cooperative on the east side of Ann Arbor. All of the units were white, he said. As the cooperative moved to upgrade the units and replace the siding, Schweitzer recommended that each unit should have its own color scheme with doors and shutters in different colors "so no two look exactly alike," he said. "There's been a night and day difference. Form matters very little. It's the color that matters."
While Schweitzer has taught architectural history and historic preservation at the University of Michigan and Eastern Michigan University, he also writes for national home magazines. When he agreed to write an occasional column on color for Victorian Homes magazine, he was flooded with letters from readers seeking advice. "I didn't know how to respond," Schweitzer said. "My wife said that it wasn't a problem, that it was a business model." That was in the late 1980s, and he launched Historic House Colors, an early Web-based business.
Schweitzer, who has spent his career focused on American domestic architecture, also is the author of the book "Bungalow Colors Exteriors" and co-author of "America's Favorite Homes."
As for Ann Arbor? While there are a number of houses with colorful exteriors, it's a city not known for its vibrantly colored houses, he said. "But Ann Arbor has a lot of potential."
For more about his business and for more photos of his projects, go to http://www.historichousecolors.com/.