Posted on
Fri, Nov 11, 2011 : 6 a.m.
Are the claims of portable heaters drastically lowering your utility bills true?
By Keith A. Paul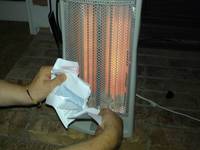 Photo by: Nick Paul
Hi Keith, Just like most of the homeowners in Michigan, I was shocked at last year's heating bill and am searching for ways to lower it. I've seen claims that certain space heaters can save quite a bit of money. Is it true and would you recommend purchasing one? What do I look for, and which space heater would you recommend?

—Brian E., Ann Arbor

Hi Brian,
I too have seen the claims "Save 50 percent on your heating bill, every month! or "Slash Those Heating Bills." But is it true? Can you spend $100-$400 on a portable heater and cut your heating bills in half?
Upon investigation I came up with the same answer often given. It depends.
There is no question that our rising heating costs have no end in sight. Finding ways to lower them is an endless pursuit. After all, is the money best left in your pocket or the utility company?
The best plan to lower your heating bills is completion of a home energy audit, but I'll focus on your question of portable heaters.
This depends on your natural gas, which is measured in therms, versus your cost of electricity measured in kilowatts. Heating the same space with electricity versus gas could cost you up to two times as much based on national averages, according to Consumer Reports. So how can one make these claims?
Simple. Heating a specific room with an electric space heater can be much cheaper than heating the entire home with your furnace, also known as "zone heating". For every degree you lower your thermostat you can save approximately 2 percent on your heating bill. Make sense?
Honeywell has a website to illustrate this example. Enter your yearly heating bill, your current temperature setting and new, (lower), setting. It will automatically calculate the cost savings by lowering your homes' thermostat versus the yearly cost of an average space heater: http://www.honeywellheatsavings.com/calculator.html
The EPA does not currently label space heaters as an ENERGY STAR qualified product; even though they evaluated a few, they have no plans to label them as an ENERGY STAR approved. Therefore your question of the recommendation is not simple. However, they referred me to EnergySavers.org, which has a list of what to look for when purchasing space heaters:
When buying and installing a small space heater, follow these guidelines:
• Only purchase newer model heaters that have all of the current safety features. Make sure the heater has the Underwriter's Laboratory (UL) label attached to it.
• Choose thermostatically controlled heaters, since they avoid the energy waste of overheating a room.
• Select a heater of the proper size for the room you wish to heat. Do not purchase oversized heaters. Most heaters come with a general sizing table.
• Locate the heater on a level surface away from foot traffic. Be especially careful to keep children and pets away from the heater.
Honeywell HZ-817 is the Consumer Reports recommendation for electric heaters under $100. This model was reviewed by their experts and is a standard electic convection model. Conssumersearch.com highest rated heater is Lasko 755320 Ceramic Tower Heater.
Remember that when choosing alternative heating sources, the number one priority is safety. For more information, visit last year's column on heating safely during the winter.
Keep in mind, DTE and Consumer Energy both have energy efficiency programs to help Michigan homeowners. Have fun and stay warm this winter without breaking the bank.
Keith Paul is a State of Michigan Licensed Builder. Paul serves as President and founding member of Nationally franchised HandyPro Handyman Service, servicing Washtenaw, Wayne and Oakland Counties.www.handypro.com Listen to Paul every Saturday at 11 a.m. on "It's Your Business, Make It Happen" WAAM Talk 1600AM. Email questions or comments to kpaul@handypro.com.