Marcia Lyon's Creating Spaces
As house grew, the kitchen got swallowed up
Posted on Thu, Jun 10, 2010 : 8 a.m.
The sense of proportion can get lost as multiple additions envelop a house.
When you take a basic house and have room to expand (only toward the back), typically you make the new rooms bigger and better. If the original spaces have a function, that's great, but often they don't and become walk-through rooms.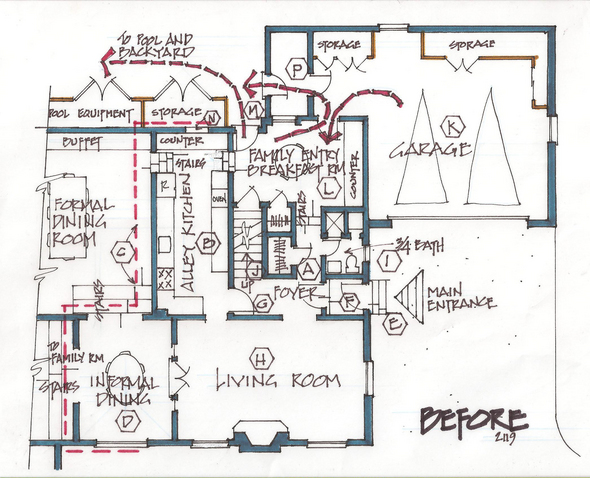 PROBLEM
The tour through this house started with some narrow halls and tight spaces (A), but the progression through the back unveiled wonderful and spacious rooms. The additions stepped down, so the ceilings got higher. The last addition opened up to a magnificent outdoor space and a pool. The problem was this outdoor entertaining space was a distance from the kitchen (B). Also, the kitchen hadn't kept up with the new, grander spaces. I believe that the original house terminated at the back wall (C) of the kitchen and the informal dining room (D). This dining room may have been a porch. The front entry (E) brings you through a tiny air lock entry (F) into a foyer (G) hall. The living room (H) is traditional and formal. Off the narrow hall (A) is a remarkably small ¾ bath (I). The only stair up (J) is enclosed and dark. The path from the two car garage (K) into the house is through a strange transitional space that doubles as the family entry and the breakfast room (L). This was also the way the kitchen accessed the backyard and pool (M). This room was also on a lower level, equal to the garage floor. The kitchen (B) ended up with no window over the sink, and the end window (N) was covered up by a storage built-in (N). SOLUTION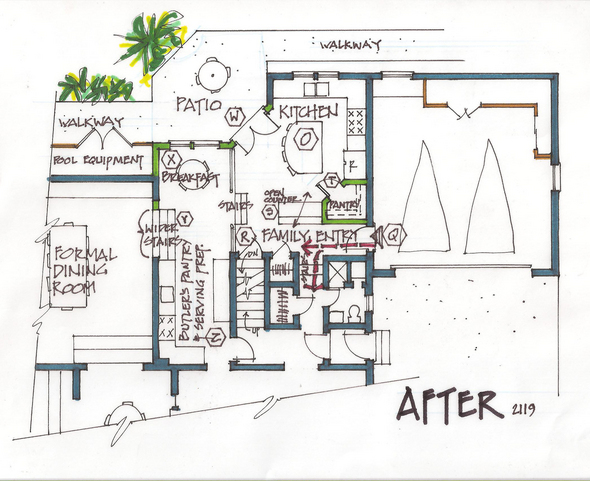 We straightened everything out by building a new kitchen (O), using part of the garage (P). The family entry was changed to a door (Q) from the garage, directly into a hall with an existing coat closet (R) and open counter (S). This funnels traffic easily into the house or into the kitchen. This kitchen is now open and spacious, with a corner pantry (T) and French doors out to a new patio (W) for grilling and dining out. There is lots of natural light. The expansive island offers seating for quick meals and a great surface for homework or projects. Now this kitchen is in proportion with the rest of the house. The end of the old kitchen is extended out 3 or 4 feet to create a breakfast room (X), with railings to be open visually to the kitchen. The stairs to the formal kitchen (Y) are shifted down and widened. What's left of the old kitchen (B) is perfect as a butler's pantry and serving prep space (Z). This comes in handy when having dinner parties.