Posted on
Sun, Nov 6, 2011 : 9:35 a.m.
Remove or encapsulate torn asbestos pipe wrapping to prevent inhaling airborne fibers
By Judy DiForte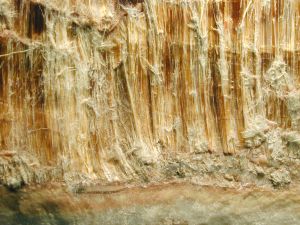 "Toxins for 400, please, Alex."
"It was once touted as a miracle substance, but has now proven deadly," Trebec prompts.
"What is arsenic?" BZZZ!
Trebec should add that it's a natural substance used as far back as 3000 BC, found in archeological digs in Scandinavia, where they used it in pottery and log homes. Egyptians embalmed pharaohs with it; Persians wrapped their dead in it. By the late 19th century, more than 3,000 products were made with it, including textiles, construction materials and insulation.
"What is asbestos?" DING! Contestant gets a gold fiber.
The Betty Brigade recently consulted on clearing out a home built in the late 1920s, and in the basement… You got it: asbestos-wrapped pipes.
The expert we called said if the asbestos is contained, it's safe. It's only dangerous when its fibers become airborne and are inhaled. He identified danger areas where the asbestos wrap had torn or dried out and cracked. Below were piles of dust. Even then, he said, as long as the dust is undisturbed, the fibers are not airborne.
In other words, you can walk through there —just don't start picking things up and moving them around.
The problem is, emptying a house is all about disturbing things — sorting, packing and channeling things to various destinations. So our team can't work in the basement until it's safe, which can happen two possible ways:
The asbestos can be completely removed and replaced by safe materials, the basement thoroughly vacuumed with special equipment, then air-tested.
Or, the torn and broken areas can be encapsulated with safe materials. The basement is then vacuumed and air-tested, as above.
Our homeowner chose the first option, but either one leads to a safe environment.
As the jeopardy player asked above, "What is asbestos?" I mean, what is it exactly?
Well, I checked, and it's a set of six silicate minerals, known for their long, thin, fibrous crystals and their qualities of sound absorption, strength and resistance to fire. It must have other good features, too, or Egyptians and Persians wouldn't have wrapped bodies in it.
Ill effects have long been suspected, but by the late 1970s, multiple studies had shown a clear link between asbestos fiber exposure and the risk of asbestosis and mesothelioma. The EPA and OSHA put safety regulations into effect for anyone working with or near asbestos.
When in doubt, check it out, and we'll do asbestos we can... I hear you groaning. Well, the joke may be lame, but at least it's not toxic. (Be careful with it, though — years from now they may find out otherwise.)
Read more on the history of abestos here: http://environmentalchemistry.com/yogi/environmental/asbestoshistory2004.html
Judy DiForte is a professional organizer at The Betty Brigade, an Ann Arbor-based relocation, orgnaizing and event planning company. Email her at judy@bettybrigade.com.