Home & Garden
At 22, recent grad is living the good life in a downtown Ann Arbor loft
Posted on Thu, Dec 24, 2009 : 6 a.m.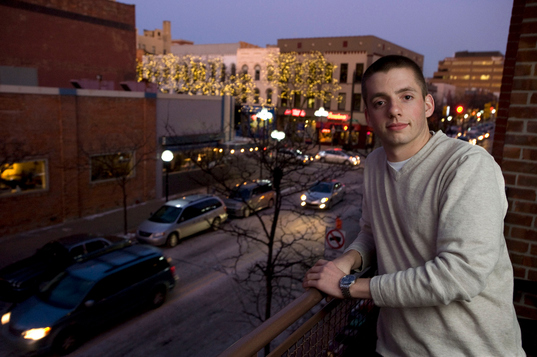 Mark Bialek | For AnnArbor.com

Mark Messmore started college life at the University of Michigan like most of his peers, living on campus in a cinder block dorm room and eating institutional food.

But by the time he graduated in 2008, the now 22-year-old Messmore was living the good life in a downtown Ann Arbor loft, with restaurants, coffee and nightlife at his front door.

Messmore bought and furnished a 650-square-foot downtown loft in the heart of downtown Ann Arbor, at the corner of Main and Liberty streets.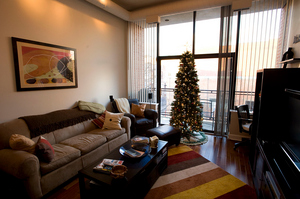 Mark Bialek | For AnnArbor.com
But it wasn't a trust fund or even the wages of a starting Spanish teacher with the Saline School District that made it possible for the then 20-year-old to buy a downtown loft.
"I worked a million hours as an undergraduate," Messmore said. "I've been saving money since I began working at 13 at a diner in Dexter."
He's been frugal. He took 20 credits a semester at U-M rather than the more typical 16, finishing in 3 1/2 years to save on tuition.
He lived with his parents in Dexter during his sophomore year to save money. And he worked two jobs - as a server at an Ann Arbor restaurant and as a marketing associate at an insurance company - when he was an undergraduate.
Messmore was so young that he was ribbed at the closing that he was old enough to sign a mortgage agreement but not old enough to legally drink alcohol.

The former apartments (years ago occupied by the Ann Arbor Racquet Club) were being converted into condominiums and Messmore wanted to take the plunge into real estate, even though he was still a college student.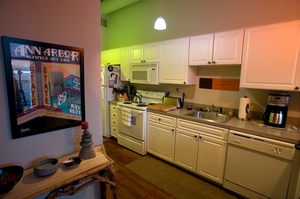 Mark Bialek | For AnnArbor.com
"Downtown living had always been intriguing," Messmore said. "I love the efficiency of it. I can bank, run to the Post Office, take care of all my errands on foot in 10 minutes. The location was huge."

While the location was ideal, the décor was not.
"There were light blue walls and baby blue carpet," Messmore said. "And there was a hideous linoleum in the kitchen along with outdated gold frosted lights hanging from the ceiling."
A leak had rotted the subfloor around the kitchen and bathroom. 
With no training in interior design but with a little assist from family members and help from an associate at Pottery Barn, Messmore was able to put together a hip, stylish but affordable look.
He bought the spring water cherry wood flooring from Chelsea Plank Flooring and painted the walls a warm taupe with highlighted trim. The dark flooring and furniture offered the contrast he wanted, Messmore said.
He installed track lighting and an alabaster chandelier in the living room and colorful pendant lights in the kitchen. He found brushed nickel knobs for the kitchen cabinets on-line.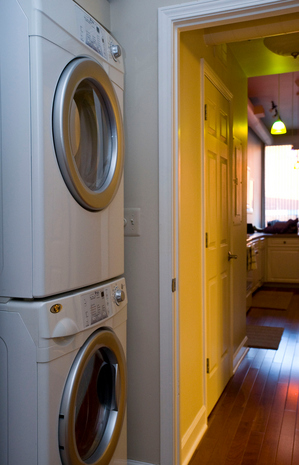 Mark Bialek | For AnnArbor.com
Most of the furniture comes from Pottery Barn, with a few odds and ends found at Target. 

Like shotgun houses of New Orleans, the downtown condo is long and narrow, a single sightline runs from bedroom through the kitchen and to living room and the balcony that hovers over Liberty Street.
It was the balcony that sold Messmore on this loft.
"I was worried that living downtown, I wouldn't have a lawn, a way to be outside," Messmore said.
A look from the balcony down Liberty Street shows three of Ann Arbor's iconic images: The Bell Tower, the State Theater and the Michigan Theater.
And while the loft is a compact 650 square feet, the 12-foot ceilings make it feel roomier and the layout is efficient, he said. 

Still, downtown loft living has its downsides, Messmore said. There's the $130 a month for parking (for the first two years, he received free parking) and there's the $110 monthly condo association dues.
And there are the groceries. His parking spot is two blocks away, forcing him to park in the alley to unload anything heavy before he can park his car. It's a small price to pay, Messmore said.
"I love living downtown. There's always something to do, even if it's just getting take-out from the Parthenon."