Posted on
Thu, Jun 16, 2011 : 5:44 a.m.
B & B Heartwoods kiln dries and custom mills wood for homebuilders, artists and pasta makers
By Janet Miller
Janet Miller | For AnnArbor.com
B & B Heartwoods
, north of Ann Arbor, caters to connoisseurs of fine wood, from custom homebuilders to artists to pasta makers.
While big box and lumberyards sell wood in between shelves of dehumidifiers and cans of paint, Bonnie and Bill Geschwender sell just one product: Kiln dried and custom milled wood. That way, Bill said, he can keep his focus.
Since 1985, the Geschwenders have milled hardwood that's used for everything from kitchen countertops to abstract art, from desktops to stair steps.
A pasta maker buys wood that's made into drying racks. A retired man bought wood to make his first grandchild a cradle. A couple bought aromatic cedar to line the cathedral ceiling of their home.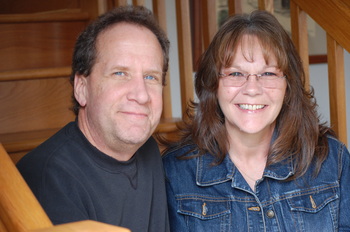 Janet Miller | For AnnArbor.com
Heartwoods lumber was used to make the sign at the Children's Garden at Matthaei Botanical Gardens. One homeowner ordered maple and ash from Heartwoods and turned them into beer tap handles.
"I've always dealt with the little guy," Bill Geschwender said. "Homeowners, contractors, woodworking students."
He sells to artists, who use his wood to craft frames and others who integrate the wood into their art.
While national chains sell common woods such as oak and polar in standard sizes, Heartwoods sells hardwoods not found other places: Osage orange, curly cherry, sassafras, curly hardwood maple along with popular woods such as quarter sawn red and white oak, walnut, ash and cherry. The wood is custom milled so it doesn't sit and warp.
"Once the wood is milled, the pores open up and it can begin to warp," Geschwender said.
Homebuilders order custom butcher-block kitchen countertops, custom crown and base molding and trim casing, mantels and shelving. While custom home contractors at one time bought wood to make custom cabinets, that doesn't happen as much.
"The bottom line is so important now. People aren't willing to spend the extra money. People are buying cabinets pre-made mail order. We're had to adjust to what's going on out there."
Heartwoods is located in a workshop adjacent to their timber framed sales office and connected to an old dairy barn on Whitmore Lake Road in Northfield Township.
A box of wood samples could be a tree identification guide: Mulberry, butternut, cypress and willow. Red oak continues to be king.
"When people think hardwood, they think oak," Bonnie Geschwender said. But cherry became popular in the 1990s and continues to be strong. And the lighter woods - hard maple, birch, ash and beech - are also catching on as home design moves toward an open and airy feel.
Wood with a raw, natural edge - whether it's for a countertop or stair steps - is catching fire, Bonnie said. The rough edge gives the wood a natural and rustic look. One customer wanted the sapwood left on for a natural edge to their stairs.
What they don't usually sell is wood for flooring -- it's impossible to compete with bigger companies that specialize in floors, Bill says -- there are exceptions. One customer wanted an exact match to their ash floor for an addition.
Heartwood has done other custom jobs: One homeowner brought in white oak logs cut from their property to be dried and milled. Another woman brought in ash trees she'd grown up with to be milled.
Bill Geschwender does all of the milling. The wood comes rough sawn from wholesalers, mostly from the Midwest. He mills the lumber, but he doesn't make finished products.
"I like to keep it simple and not worry about glues and finishes. We don't do anything that's start-to-finish. We don't deal with an end product," he said.
The singular focus also helps keep it no-waste operation.
"There are no by-products," Bill said. Scraps are turned into firewood that he gives away and the woodchips are sold to farmers who use it for horse bedding. "I've never had a Dumpster here," he said.