Posted on
Mon, Aug 2, 2010 : 8:35 p.m.
Backyard gardening on Ann Arbor's west side: harvesting veggies and saving seeds
By Kevin Dorn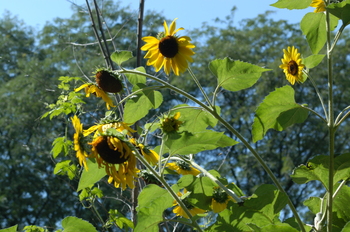 Photo by Atcha Dorn
Hey, everybody! I managed to crawl out of the garden for a brief stint at the computer to write the fifth garden blog entry. So…harvest season is upon us, weeds are taking over and it's time to save seeds for next year's garden.
Yes! It is time to start planning for next year. Think about what worked and what didn't work this year. What would you do differently? What varieties do you love and want to save the seeds from? Personally, I'm saving seeds from my heirloom pear paste and yellow rainbow tomatoes, provider green beans, cilantro, mizuna and possibly more.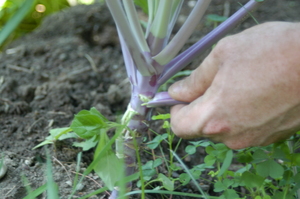 Photo by Atcha Dorn
Since August is the harvest month, here are some harvesting tips. Many plants will give you a continual harvest. These include: kale, collards, chard, basil and parsley. The new leaves of these plants grow from the inner crown. Pick off the outermost leaves by gently peeling them away from the stem, leaving 3-4 healthy leaves on the plant. It is always best to pick "greens" in the morning before the sun hits the plants. This is the least stressful for the plants and also yields the tastiest greens. Harvesting these greens in this way can provide you with months of fresh garden veggies. However, some people do plant a fall crop of kale and collards. These hearty greens can survive a frost and actually sweeten in flavor.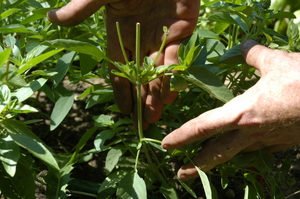 Photo by Atcha Dorn
Basil is another wonderful summer crop that gives and gives. The trick to getting a lot of basil is to cut off the shoots above a node that will produce two new shoots. The plants want to make seeds and reproduce. By picking the plant you are encouraging more leafy growth and will get more basil to eat. Basil cannot stand a frost so some people put a basil plant in a pot and take it inside over the winter. Blending your ample basil with olive oil, nuts and cheese makes a great pesto. Try pouring your pesto into ice cube trays, freezing, then popping the pesto cubes out into plastic bags and keeping in the freezer. When you want to eat pesto this winter you will have individual servings on hand.
Cilantro and dill can be cut down to about an inch and will resprout. Don't fret about flowers and seeds. Both of these plants are easy to store seeds from. Also cilantro seeds are coriander - a common cooking spice and dill seeds are commonly used in making pickles.
Photo by Atcha Dorn
We picked our onions, garlic and shallots two weeks ago and they are all bunched and drying in the shed. We harvested 140 bulbs of garlic this year! The biggest bulbs will be used to replant this coming fall. Garlic only grows until the leaves of the plant start turning yellow. When this happens, loosen the soil around the plant with a fork and gently pull up the garlic. Harvest in the morning and let the bulbs dry in the field all day. Bunch and hang in the afternoon. Eat damaged bulbs immediately as they will not store well. The rest of the garlic will last you the whole year! Take the garlic inside before the winter freeze and store it in a cool, dry location.
Let me remind you about the Ball Blue Book; this is the food preservation guide that I use with safe success. You can find it virtually anywhere, but I recommend Downtown Home and Garden. The staff there is knowledgeable and friendly.
The gold finches have been enjoying the sunflowers. The ruby throated hummingbirds have been enjoying the jewelweed. The bees are enjoying the bee balm and echinacea. I hope your gardening is going well. If you haven't smelled primrose yet this summer, I highly recommend it.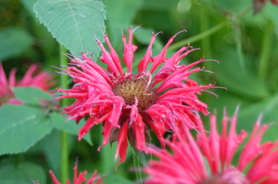 Photo by Atcha Dorn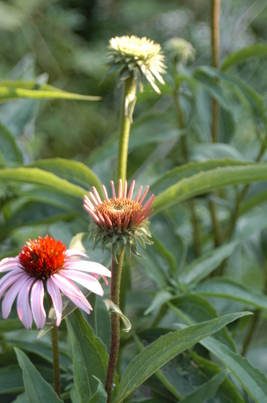 Photo by Atcha Dorn
This is the fifth entry to the garden blog. Lately I've been gardening more than writing, but future entries will follow. Happy summer! Kevin Dorn.