Posted on
Sat, May 22, 2010 : 12:15 p.m.
Backyard gardening on Ann Arbor's West Side: tomato time!
By Kevin Dorn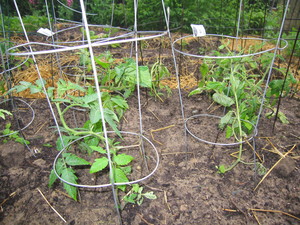 Kevin Dorn | Contributor
There is a tremendous amount of information available about gardening. However helpful this may be, it can also become overwhelming and stressful. Gardening to me is a joyful process of trial and error. Yes, I do heed advice and respect wisdom; but above all I enjoy myself.
The past two weeks have been very exciting. The
weather
has warmed up and the warm season crops are going in. Tomatoes, basil, peppers and sweet potatoes are all in the ground outside. The cool season crops have been producing, so we've pretty much stopped buying vegetables from the store.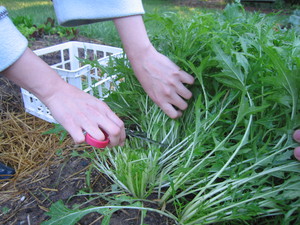 Kevin Dorn | Contributor
We have been harvesting spinach, kale, cilantro, dill, radishes and mizuna. All of these cool season crops were planted as soon as the soil could be worked back in March. Spinach is so sensitive to heat that I just pick the whole plant when I want to eat it. I'll plant another crop for the fall. Actually, a trick to getting early spring spinach is planting a late fall crop that will grow again in the spring.
I stopped picking my asparagus as it is only the third year for the crowns and I want them to develop strong roots for a bumper harvest next year.
I've also been transplanting as I've been reshaping the garden beds. My second crops of radishes, carrots and spinach didn't germinate well so I moved volunteer dill, Chinese celery and cilantro into the space. Just a note on terminology: "Volunteers" are plants that spontaneously grow in your garden.
Lemongrass was divided and planted outside. My wife uses lemongrass in many Thai dishes, including tum yum goong (hot and sour shrimp soup). Two years ago I rooted store-bought lemongrass and planted it. It is sensitive to cold so I take it in over the winter in a pot, and divide and replant it in the spring.
The pickles from last year have been delicious. I canned lots of dill pickles and spicy tomato salsa. The
Ball Blue Book
offers safe and easy canning guidelines. Yes, you can can.
Backyard gardening is quite beneficial as I can grow many foods that aren't readily available in quantity or freshness. Gardening to me is also a way to replenish and reconnect. It is very grounding. Just remember: whatever you do, enjoy yourself!
I hope your garden is going well, and that this blog is helpful with your pursuits. Let me know if you have a subject you'd like me to explore.
This is the third entry of the garden blog. Look for updates every two weeks. I appreciate you taking the time to read this post and comment if you like. Happy planting!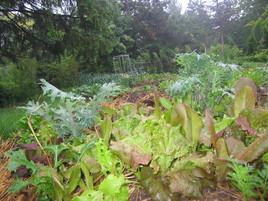 Kevin Dorn | Contributor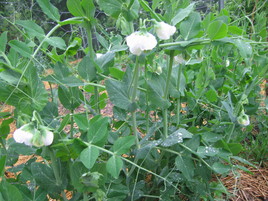 Kevin Dorn | Contributor