Posted on
Mon, Jun 27, 2011 : 12:54 a.m.
Barren Strawberry isn't a tasty native plant but makes a pretty ground cover
By Rick Meader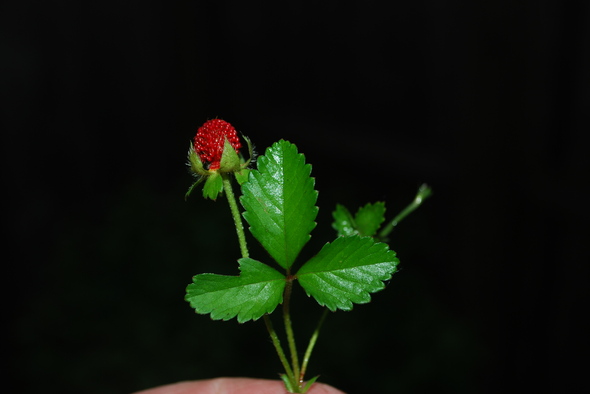 Rick Meader | Contributor
You're walking along in the woods, looking at the ground so you don't trip on a root, and see a rosy red berry on a low-growing plant that looks a lot like strawberry plants. There are actually quite a few of them on the mat of cute green leaves.
They're obviously ripe, so you pick a couple and pop them into your mouth. And that's when the spewing begins. It's not a bad flavor, it's really no flavor. You won't die, as it's not poisonous, but it's kind of like eating wood.
You have been introduced to a very nice native plant that may look like a strawberry, but won't be used on cereal anytime soon,
Barren Strawberry
(
Waldsteinia fragarioides
).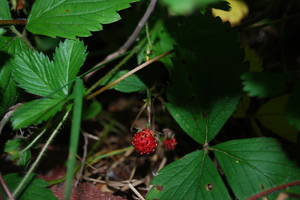 Rick Meader | Contributor
Since it's strawberry season in Michigan, and both barren strawberry and wild strawberry (Fragaria virginiana) are ripe right now, let's talk about them. First, the tasty one.

Wild strawberry is a small, three-leaved plant that grows in open fields, prairies, and open woodlands, never reaching more than about six inches tall. It has white flowers that bloom in April and come off a different stalk than the leaves.

The plant spreads quickly via runners, and the berries have seeds sunken into the flesh of the berry. They are popular with small mammals, birds, ants and pretty much anything else that likes a delectable treat (including humans). The berry isn't really much to look at, and rarely gets bigger than half an inch in diameter, but its flavor packs a wonderful wallop in your mouth.

In fact, according to the Audobon Society Field Guide to Wildflowers (Eastern edition), our wild strawberry was hybridized with a South American strawberry to form the plant that is the strawberry used for most domesticated crops today. According to the USDA Natural Resources Conservation Service Plants Database, it is native to all of North America.
Now, for the woody one. Barren strawberry, like wild strawberry, is a member of the rose family, has leaves with three leaflets and flowers that arise on a different stem from the leaves.
It is also a low-growing plant that may reach a height of four to six inches but is often much shorter than that. And there, aside from the fact that its fruit is red, end the similarities.
Barren strawberry flowers are yellow, it does not spread by runners, it is even shorter than wild strawberry, often forming a mat of evergreen leaves flat on the ground, and it is mainly found in woods versus open prairies or meadows.

Its fruit, surprising as it may sound to those of you who have tasted it, are not berries at all, but a dry, one-seeded fruit. The USDA Plants database indicates that it is native to most of eastern North America, but is more common in the northern climes.

A very nice, detailed account of this plant is given at the U.S. Forest Service website: http://www.fs.fed.us/r9/wildlife/tes/ca-overview/docs/plant_Waldsteinia_fragarioides-Barren_Strawberry.pdf.

Rick Meader | Contributor
It receives nowhere near the popular press that wild strawberry does, but as long as you aren't looking for food, it can serve as a very nice groundcover, especially in a partially shaded setting. Some out-of-state nurseries carry this in their lines, but it is not widely available.
I did not find any significant uses for the fruit by wildlife in my research. Someone once told me that box turtles eat the fruit, but I have not seen it myself or found sources in print that verify that assertion.
So, if you want to be different, and have no gathering competition in the woods, I suppose you could learn to love eating this plant, but I like to leave this plant's role in my garden as a groundcover, and wild strawberry as a fun, natural snack.
This week, blooming in my garden are Solomon's seal, False sunflower, black-eyed Susan, spiderwort, common milkweed, swamp milkweed and butterfly milkweed. It's quiet in the woods and picking up in the prairie. Have a great week and enjoy nature, everyone!
Rick is a local landscape architect with a special interest in all things natural, including native plants and the critters that eat them. You can contact him at yourland1824@gmail.com.