Posted on
Thu, Jan 31, 2013 : 11 a.m.
Safety tips offered to mark Bathroom Injury Prevention Month
By Keith A. Paul
Hi Keith,

Regarding your article on modifying your bathroom to avoid slip and fall injuries; I purchased the Wingits and installed them for my parents' grab bars. Thanks. My mother is coming home from rehab because she recently had knee surgery, and I am curious what other precautions I can take to ensure she is safe. Plus these preventative measures may be helpful for my 2-year-old.

—Carissa S., Ann Arbor
Hi Carissa, I am glad you liked the grab bar accessory recommendation. Security of the grab bar is key to safety. Also, January is bathroom safety month, so you picked the perfect time for our readers.

According to the Centers for Disease Control and Prevention, one of the leading causes of accidents in people 65 and older is falls. The bathroom is the number one room in which most people slip and fall. All persons, especially the elderly, need to be aware of bathroom activities associated to injuries. So, I appreciate you looking over your mother so closely. Unfortunately, in my line of work we see so many seniors who do not have the care and attention they need to ensure their safety.
Below are a couple more tips to help your mother on her way to recovery.
Education: It's been noted that almost 70 percent of older adults use towel racks and sliding glass shower doors for support. Be sure to replace a glass shower enclosure with non-shattering material. It has also been recommended to change to a curved shower curtain rod with weighted curtains and grab bars, so there is no attempt to grab the doors.
Transfer bench: If your mother has a bath tub, consider purchasing a transfer bench. The bench can be used to easily sit down and slide over the lip of the tub and help avoid slipping.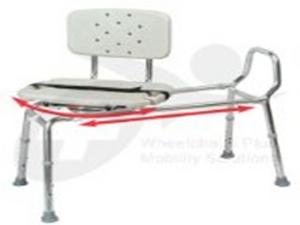 Photo from Amazon.com
Toilet: Your mother can be better stabilized with using a raised toilet seat or special seat with armrests, ADA-approved (Americans with Disabilities Act) adjustable toilet arms. The best option would be to install them with drop down grab bars on either side of the toilet for stability.
Bathtub: Convert a bathtub to a transition tub like Ranetub, or a step-in shower. Replacing the tub will reduce the step height for easier access.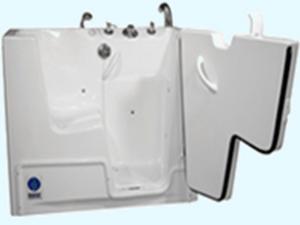 Photo from Ranetubs.net
Electrical outlets: Be sure all electrical outlets have ground fault circuit interrupters (GFCI). This is the electrical plug which typically has a test button. In the event where an electrical hair dryer or appliance accidentally falls into the water, the GFCI will automatically turn off the electricity.
Bathtub spout cover: This product can be used to help protect your mother and your child. Many accidents happen with tub slip and falls. Cover the spout with a rubber-like product to help in case of an accident. Plus, it's aesthetically pleasing.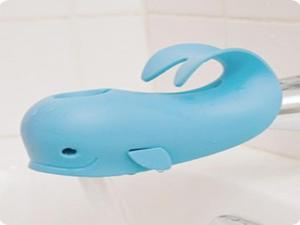 Photo from Amazon.com
Increased awareness of potential hazards and dangers within the bathroom hopefully will benefit you and our readers. Thank you for submitting your question. As always, our reader's questions can educate and perhaps avoid injuries.
Keith A. Paul is a State of Michigan Licensed Builder and a Certified Aging in Place Specialist. Paul serves as president and founding member of nationally-franchised HandyPro Handyman Service, servicing Washtenaw, Wayne and Oakland Counties. www.handypro.com. Email questions or comments to kpaul@handypro.com.