Posted on
Mon, Feb 15, 2010 : 2:25 p.m.
Bathroom remodeling: A great way to improve the livability of your home
By NARI of Southeast Michigan, a chapter of the National Association of the Remodeling Industry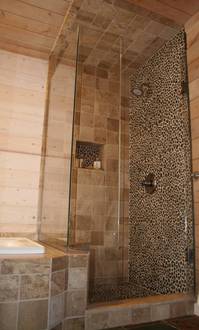 Photo courtesy of Dexter Builders
A popular room to target for remodeling has always been, and currently is, the bath. Right now, many people are tearing out their old five-foot tubs and installing large showers. Not only does this improve accessibility, but it also adds the opportunity to improve utilization of space. 
"We also see the trend away from whirlpools; customers are installing soak tubs and putting the money they save into custom showers," says Adam Tillman of Kohler.

In addition to efficient space use, water conservation is generally a consideration of every bath remodel. Every U.S. resident consumes an average of more than 100 gallons of water each day, according to the U.S. Department of Energy's Green Building Guidelines.
"Three simple and relatively inexpensive ways to save water in your home are to install high efficiency toilets (HETs) which use less water (typically 1.28 gallons per flush or less), low-flow faucets and low-flow showerheads/handhelds," says Tillman.
The federal Energy Policy Act of 1992 mandates that new toilets use no more than 1.6 gallons per flush (GPF). Michael Anschel, owner of Minneapolis-based Otogawa-Anschel Design-Build, and the keynote speaker at NARI of Southeast Michigan's upcoming April program, endorses dual-flush toilets.

"This type of toilet is the most practical option for residential remodeling," he says. The dual-flush works by replacing the conventional flush with an innovative system that allows the user to utilize a flush with more water for solid waste and one with less water for liquids.
Consumers also can decrease water usage by purchasing low-cost aerators that easily attach to already-installed sink faucets. Aerators cost less than $5 and decrease a faucet's water flow to 1.5 gallon per minute (GPM) without disrupting it.
Heating your water for less
Water heating is another area to consider when you are planning a bath remodel project. It is the third-largest energy end usage in homes, behind HVAC and kitchen appliances, according to the U.S. Department of Energy. This means the third-largest amount of energy that enters a home is used for heating water, between 13 percent and 17 percent of home energy consumption.
Traditionally, Americans have heated the water in their homes with inefficient tank hot water heaters, which waste energy by constantly reheating unused water in the tank. Tankless water heaters are becoming more popular and can help decrease water and energy usage and bills.
If homeowners have old water heaters or plan to greatly increase water usage with a new whirlpool bath, they would benefit by purchasing new, more efficient water heaters, with energy factors (EF) of .60 or higher. "Energy performance between different products can be compared using EF—products with higher EF ratings are more efficient," according to "Green Remodeling."
An inexpensive, energy-saving alternative to purchasing a new water heater is to decrease heat loss 25 percent to 40 percent by covering an old water heater with an insulating jacket that costs between $10 and $20.
Getting started…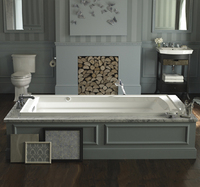 Photo courtesy of Ferguson Enterprises
The best place to start a remodeling project is always by selecting a licensed contractor and seeking the assistance of a local wholesale plumbing showroom sales associate to guide in selections and specifications.
One potential pitfall to be aware of is purchasing plumbing online.
"I hear too many horror stories of consumers who buy something online and it shows up damaged or with missing parts, and they can't get the appropriate customer service," says Tillman.
"Plus the contractors often don't warranty anything that consumers purchase direct. It's worth it to pay a little more and get a typical one-year warranty from the installer and the personal customer service from your showroom sales associate to aid in any issues that arise."
For more information, e-mail Adam Tillman, Kohler, or Don Warren, Ferguson Enterprises.
Ferguson's showroom on Jackson Road in Ann Arbor has some of the new designs and products mentioned. Ferguson is a member of NARI of Southeast Michigan, a nonprofit organization committed to educating both trade professionals and consumers.