Posted on
Fri, Jan 27, 2012 : 6 a.m.
Bleed out trapped air to quiet down noisy boiler pipes
By Keith A. Paul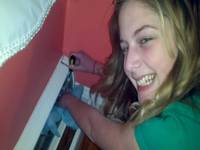 Photo by: Nicholas Paul
Hi Keith, My hot water boiler is making noises as if a hammer is beating along the pipes in the basement. My house is warm. However, I'm concerned that my boiler is going to stop working.
—Chad, S., Ann Arbor
Hi Chad,
Fortunately, this problem is a fairly common occurrence in homes with closed loop hot water heating systems. The good news is that, in most cases, this is an easy do-it-yourself project All you will need is a hexagon bleed screw, (or a screw driver), a towel and a small empty bowl.
Similar to a radiator in your car, a residential radiator is filled with water. When air leaks into the system, the pressure rushes both through the pipes, creating a banging noise.

Air can be drawn into the system several different ways: defective valve, broken bleed screw, pressure leak and previous pipe repair. Another possibility is due to an expansion tank. Because water expands when heated and contracts cold when cooled, extra space is needed to store air. This is called an expansion tank. Air can be drawn back into the boiler from this piece.
To fix your system, first turn off your heat and let the water cool. Then go to the highest room in your house and remove the radiator cover. Locate the bleed screw. Usually, it's located to the far top right or left hand side of the pipe elbow.
Put your empty small bowl underneath and wrap a towel loosely around the base of the nipple to catch any water runoff. Put the hexagon bleed screw on the nipple and slowly turn counter clockwise a quarter to a half turn (in many cases a long screw driver will work if the boiler key is missing).
You will hear a hissing sound, which is the air escaping out of the pipes. Once the air is completely removed from the system, water will begin to trickle out of the valve. Turn the key clockwise to ensure the valve is tightly shut. Repeat this step in each room starting with the top and working your way down to the lowest point.
The next thing you want to do is to bleed off any excess air caught in the system at the expansion tank which is located near the boiler. It has a small bleeder button that when pushed releases air. This unit catches air that builds up in the system.
If you are on a well system, you will have more air getting into the system from the well water.
Turn the heat back on. Be sure the radiators begin to heat again. That's it. You have bled your boiler system. If you continue to have issues, you may have to call a professional to re-pressurize the system, or just wait for another column (hint, hint).
Enjoy and stay warm.
Paul is a State of Michigan Licensed Builder. Paul serves as President and founding member of Nationally franchised HandyPro Handyman Service, servicing Washtenaw, Wayne and Oakland Counties. www.handypro.com. Listen to Paul every Saturday at 11 a.m. on "It's Your Business, Make It Happen" WAAM Talk 1600AM. Email questions or comments to kpaul@handypro.com.