Posted on
Thu, Nov 17, 2011 : 9:32 a.m.
Bringing the family room out of the basement of a split-level house
By Marcia Lyon
I have always said that split-level homes are the most difficult to add on to.
Typically, there is a main floor, and then a half flight up for bedrooms and a half flight down for the family room.
Split foyers are equally difficult. Either you add a two-story addition or a one story or both. You've got to get the added space where it is needed.

These homes also have little or no basement storage. Traffic is also an issue. Consequently, there is a lot of creative thinking that goes into a good, workable remodeling plan.
PROBLEM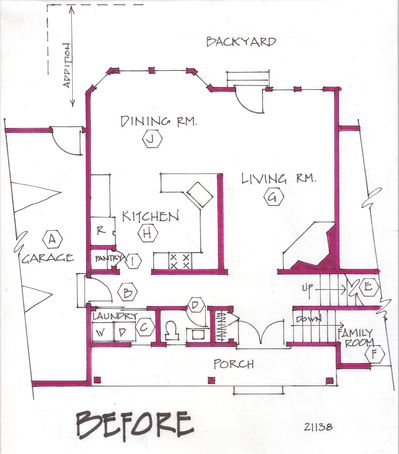 This floor plan was fairly simple, but it had some problems. An attached two-car garage (A) enters into a hall (B) that has no place for incoming coats, backpacks, or shoes. The minuscule laundry closet (C), when in use, spills out into this hallway. The equally tiny half bath (D) is next to it.
The bedrooms are upstairs (E), and a fairly small and dark family room (F) is downstairs.
The living room (G) is narrow and difficult for furniture layout. The kitchen (H) is large enough, but not well laid out. The narrow and deep pantry (I) is inefficient. The dining room (J) is larger than it needs to be.
The homeowners wanted a main floor family room and a family entry. They also wanted a deck to entertain on. They felt that storage space in general was lacking.
SOLUTION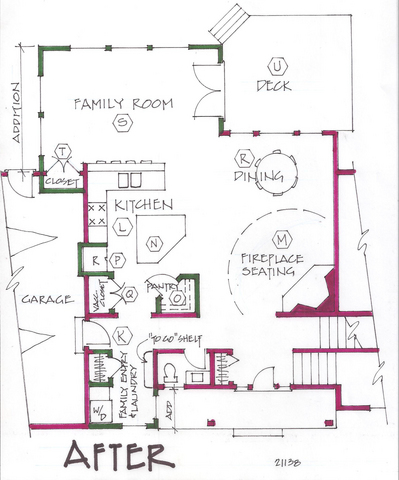 We created a family entry (K) by bumping out onto the porch. This allowed us to include a stack washer/dryer, a coat closet and a "To Go" shelf.
The kitchen (L) was modified by narrowing it and extending it toward the old dining room (J). The narrowing was for the benefit of seating around the fireplace (M). A big work island (N) provides the place for incoming groceries. It is well located adjacent to the corner pantry (O) and the recessed refrigerator (P). We added a closet (Q) for cleaning supplies and storage of the vacuum. This kitchen is open to all spaces and gets the benefit of all of the new windows.
The dining area (R) is in an area that the table can be expanded for large holiday dinners.
The new family room (S) has a cathedral ceiling and lots of windows. We snuck a closet (T) in the corner for games and books. French doors open out to a new deck (U).
Marcia Lyon is a professional remodeling designer and freelance writer, producing projects locally and several other areas across the U.S. and Canada. Her new book on remodeling design, "The Essential Planner for Home Remodeling," is available at www.creatingspaces.net. You may contact her at Marcia@creatingspaces.net or at 515-991-8880 to set up a consultation.