Posted on
Thu, Dec 1, 2011 : 9:40 a.m.
Bump-out helps solve traffic problems and bathroom issues in master suite
By Marcia Lyon
Editor's note: Marcia Lyon will be in the Ann Arbor area this week. To arrange a consultation, email her at Marcia@creatingspaces.net or call 515-991-1300.
When updating a master suite, it is wise to re-think the spaces you have. Plumbing fixtures, countertops, flooring and wall colors may scream a decade, like the 80s, but the layout also may indicate a style that is passé.
Also, our lifestyles and personal likes and needs may dictate changes.
PROBLEM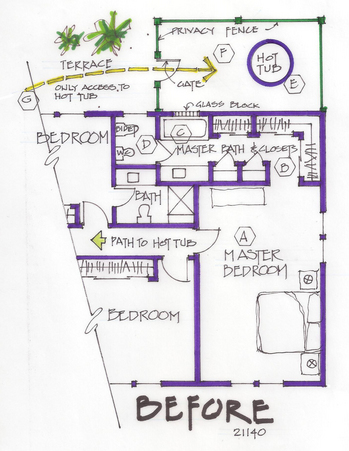 The master bedroom (A) in this Farmington Hills, Mich. home was large, but awkward for furniture arrangement. The three closets (B) were in a dark hallway that included the bathtub and vanity (C). Needless to say, two people could not operate in this space at one time.
A tiny room (D) houses the water closet and bidet and has the only window.
Apparently, a hot tub (E) was added in an enclosure (F). The only access to this outdoor oasis is through sliding glass doors in the family room, then across a terrace.
These homeowners wanted a direct access to the hot tub from their bedroom. They also wanted a walk-in closet and to replace the bathtub with a shower. They had planned to build an addition to add these features but didn't know where or how.
SOLUTION
I always try to minimize additions to save money and also to complement the house. My approach was to find the space within, and only bump out if needed. Starting with the bedroom (A), I worked with furniture arrangement first. I realized that adding a double window (H) added balance and symmetry to the room.
A spacious walk-in closet (I) extends only 2 feet and 6 inches into the bedroom. A light-filled hallway (J) terminating with a white glass door (K) is the new access to the hot tub (E). A generous linen closet (L) fills in the area behind the bedroom door (M). This closet includes the extra towels needed for the hot tub.
The master bathroom (N) is now separated from the closets. Only a 4-foot bump-out (O) is needed for the extra space. A new, white glass window and two small skylights full this room with natural light. A second vanity gives both people their own getting ready space.

Marcia Lyon is a professional remodeling designer and freelance writer, producing projects locally and several other areas across the U.S. and Canada. You may reach her at Marcia@creatingspaces.net or at 515-991-1300. Visit www.creatingspaces.net to find information about her Consulting Service or to purchase the book "The Essential Planner for Home Remodeling."