Posted on
Fri, Aug 26, 2011 : 6 a.m.
Educate yourself about your new well and septic system to help you maintain them properly
By Keith A. Paul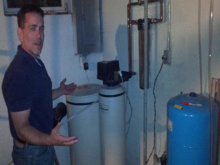 Photo by: Sean Singer
Hi Keith,
My family and I have recently moved to Ann Arbor and now are relying on well water and a septic system rather than city water which I have been used to over the 20 years as a homeowner. It used to be as easy as turning on the faucet and having clean water, (at least that's what I hoped). I now have to ensure the water is maintained, proper salt levels with clean and safe water. What is your advice for a first time well water homeowner?
—Jack M., Ann Arbor
Hi Jack,
Welcome to the world of water softener, water pressure tanks, filters and water safety. As usual, I like to start with the good news. New homeowners must have a well and septic inspection before moving into Washtenaw County. So chances are your water is safe to drink.
However, as always, trust but verify. If you are not 100 percent certain your water has been tested for bacteria, nitrate and arsenic, contact Washtenaw Environmental Health at 734-222-3800. Or, visit http://www.ewashtenaw.org for Washtenaw County well and septic records.
Although there are several differences between city and well water maintenance, it's mostly a matter of habit and, in many cases, getting used to a different taste. In fact 2.6 million homes in Michigan use an onsite well system.
Below are a couple tips to help with your new home's water system. Keep in mind that you should continue your research, as this column is only enough information to give you a start. Further education will help you avoid costly mistakes and have a well-maintained well and septic system.
Onsite well system. As with any home, be sure to know where your main shut off is in case of an emergency.
The basics of most well systems is that the ground water is pumped into your home through a whole house filter into a water pressure tank called a bladder, which evenly pressurizes the water and distributes throughout the water softener (this includes your salt bin) and your home. Salt is used to soften your water.
Hard water has a high mineral content and is often not dangerous, but it can be difficult on your appliances. Hard water levels can be tested by using a test kit available at many hardware stores.
I learned a valuable lesson with my water softener that may save you a panic-stricken moment. Most water softeners rid themselves of the minerals (mostly calcium and magnesium) automatically in a process called rejuvenation.
Late one night, I heard the system making a hissing sound, (as if it were leaking). I checked the system and didn't see any water flowing out of the system, which was good news but the noise continued for several minutes. I called our favorite plumber, but there was no answer at 1 a.m.
I jumped on the internet for the next hour, only to learn that this was a normal process. This allowed me to relax, go back to bed and count a few sheep.
Septic system. Know where your septic system is located. The septic tank is the place where water from your home drains into; it then sits in a holding tank. The natural bacteria will breakdown the sludge into liquid, eventually flowing into your septic field. This field is the place the water drains out into the soil and into mother earth. The septic system must be periodically cleaned because of built up sludge.
Tips:
1) Space out the time of any excessive water usage such as your dishwasher, shower and washer/dryer. For a couple reasons, it helps the septic system run more efficiently, and, most importantly, the soaps used during cleaning can actually harm the bacteria that assist in the chemical breakdown of the waste.
2) Also, reduce the amount of bleach used in cleaning and laundry; it kills off more of the needed bacteria than the detergents.
A well and septic system can be easily maintained and are nothing to fear. As with most things in life, fear is often overcome with education. I hope this has helped you.
Again, these are a few tips to help you adjust with the new experience with a well and septic field. For further information, check the Washtenaw County Environmental Health webpage at: http://www.ewashtenaw.org/government/departments/environmental_health/wells_septic
Paul is a State of Michigan Licensed Builder. Paul serves as President and founding member of Nationally franchised HandyPro Handyman Service, servicing Washtenaw, Wayne and Oakland Counties. www.handypro.com. Listen to Paul every Saturday at 11 a.m. on "It's Your Business, Make It Happen" WAAM Talk 1600AM. Email questions or comments to kpaul@handypro.com.