Posted on
Fri, Sep 9, 2011 : 6:30 a.m.
Ceiling too low for garage door opener?
By Keith A. Paul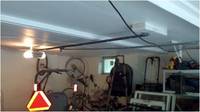 Photo by Keith A. Paul
I recently moved into a house in Ann Arbor. My garage ceiling is less than seven feet. I cannot find a garage door opener that will work because of the low ceilings. I've checked online and the hardware stores in the area with no avail. Is it possible to have a garage door opener? I had no idea that this would be such a challenge, and my wife is not strong enough to open the door herself. HELP!
—Tim E. Ann Arbor
Hi Tim,
I understand the frustration. Most garage door openers are designed to work with a normal eight-foot ceiling. The problem in this situation is that the opener will sit below the garage door itself, making it impossible for the garage guide rail to connect to the wall because there is no clearance for the garage door tension bar.
But no worries! One of our clients had the same issue, and, after much research, we were able to help.

First we got in touch with a professional garage door installer, Paul Melvin, co-owner of Plymouth Door Service. He came up with an ingenious plan. Paul says there is only one product on the market designed to help in situations with low ceilings called a JackShaft garage door opener, the problem was the ceiling was still too low for that.
Here is where ingenuity and experience played a part in this project. Paul developed a creative system to solve this problem, and I am confident that would be able to help you.
The system attaches the garage door toward the back of the garage ceiling. The railing, however, is not attached to the garage door wall but attached to the ceiling, (see photo at the top) and still has proper support. Attached to the ceiling are two 2x12s g to give the correct leveled railing height.
The key to the set up is a customized one-inch torsion spring tube bar he customized from a conduit and attaches to the curved door bracket as an extension. Paul offers them at his company, if you don't want to customize the bar.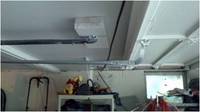 Photo by Keith A. Paul
This allowed the garage door unit to be secure and perform as the same as a normal garage door opener. Enjoy the convenience of your new modified system.
Paul is a State of Michigan Licensed Builder. Paul serves as President and founding member of Nationally franchised HandyPro Handyman Service, servicing Washtenaw, Wayne and Oakland Counties. www.handypro.com. Listen to Paul every Saturday at 11 a.m. on "It's Your Business, Make It Happen" WAAM Talk 1600AM. Email questions or comments to kpaul@handypro.com.