Posted on
Fri, Oct 5, 2012 : 10 a.m.
Cleaning asphalt off concrete takes a little elbow grease
By Keith A. Paul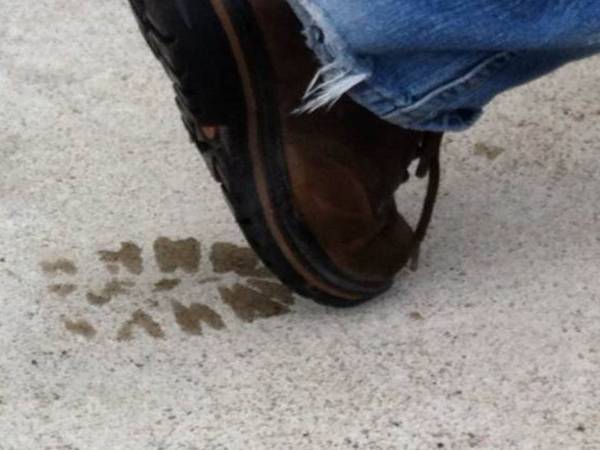 Photo by: Nicholas Paul
Hello Keith,
I found your email address online while searching for information about how to clean asphalt off of a concrete garage floor. I have been searching the internet and asking at home stores for weeks. I even asked the workers who tracked it into my garage! They did not know how to remove the heavy asphalt foot prints left by the workers who put in new roads and driveways where I live recently. I have contacted area concrete companies, but "look online" is the only answer that I get. Well, I have been looking online, and you are as close as I've come to an answer. So I am hoping that you can guide me to the answer that I need. I would like to clean up my mess before winter comes, if possible. I have shoveled up the 3-D stuff; now I would like to get rid of the black foot prints that the men left in the front and middle of my garage. I have no idea why they were there to begin with, but now it's my mess to deal with. Thank you for any assistance you can give me with this matter. I like to keep a clean and tidy garage, and as you can probably deduce from this email, it's driving me crazy! Thanks again. —Lisa S.
Hi Lisa,
I understand the frustration. When an oil sealer based product spills on a porous concrete surface, it can become a nightmare to remove because it can sink very deep within. Although there are a couple options to help clean your garage floor it will take time, effort and elbow grease.
In the early stages of a spill, it is suggested to use a garden hose to saturate the area and apply a damp cloth to soak up the stain.
Tony Rutger, vice president of Sealmaster, who's company specialized in pavement maintenance recommends two options.
Option one: Apply a sealer removal product called MasterFlo with a wire brush. Scrub the surface thoroughly and repeat as needed.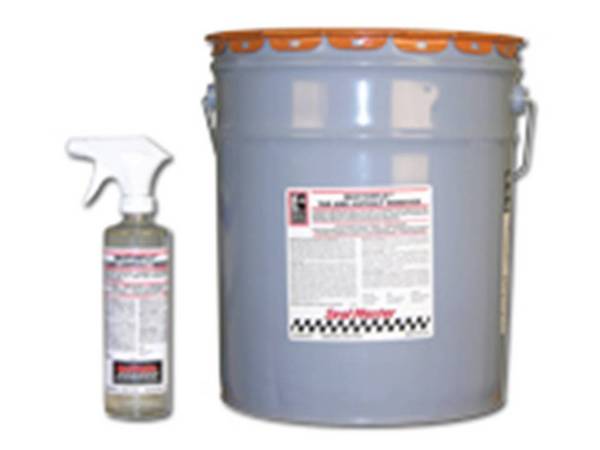 Photo by: sealmaster.net
Although it has been developed for non-porous surfaces, he has seen it used to lighten the discoloration on concrete. The price ranges from one pint at $17.99 to five gallons for $170.99. Rutger explains that the product can significantly help reduce the color and help remove most of the product; however, the key is to catch it early, which in your case you may have to try option two.
Option two: For the tougher situations, renting a sandblaster powered at medium pressure should be helpful. Full pressure could cause damage. This should help remove most of the stained area, but keep in mind the area you are cleaning will be lighter than the rest of your garage floor unless you clean the entire floor. Therefore, test a small area prior to sand blasting and proceed carefully.
Handyman tip: For driveway new oil spills apply kitty litter, baking soda or saw dust. Sweep up. Use a degreaser for deep stains. Wash with warm water and dish soap.
As always, safety first. Rubber gloves and safety goggles are always a must. Enjoy your clean driveway.
Keith A. Paul is a State of Michigan Licensed Builder and a Certified Aging in Place Specialist. Paul serves as President and founding member of Nationally franchised HandyPro Handyman Service, servicing Washtenaw, Wayne and Oakland Counties. www.handypro.com. Email questions or comments to kpaul@handypro.com.