Posted on
Mon, Nov 15, 2010 : 6 a.m.
Will cleaning ducts help with moldy smell?
By Keith A. Paul
Hello,
First of all, I love reading your column in the Ann Arbor.com newspaper.
We have this problem in the home we have lived in for two years now. The house was built in 1987 and is a 1750-square-foot modular ranch over a walk-out basement.
The problem is that in the summer, there is this nasty moldy smell that we notice especially by the front door (next to which are the stairs to the basement) and in our bedroom and our bathroom. We had a home energy audit done this summer and they found no evidence of any moisture in the basement, using their special moisture-detecting tool. Our gutters are fine (we had them cleaned and examined this summer also). I have temporarily removed the insulation in a number of places above the sill (where the wood meets the foundation) and below the kitchen and bathrooms to look for mold or water. I have found nothing. There was a little bit of mold behind an old metal cabinet that the former owners had left in a closet in the basement. We have removed the cabinet and cleaned up the mold and now there is none. The home audit guy said maybe we should have our heat ducts cleaned.
This doesn't make sense to me, but does it make sense to you? I don't understand how mold would get in the heat ducts.I really appreciate any advice on how to fix this problem or even more detective work we could do to try and find the culprit.
Thanks so much,
-Susan in Chelsea, Mich.
Hi Susan,
Thank you very much for the compliment. Below are a few suggestions that I hope can help you.
Ducts should be cleaned after a visual inspection according to the National Air Duct Association (http://nadca.com/download/Residential_Brochure_060507.pdf.). Furthermore, the Environmental Protection Agency says that it may not be necessary if "no one in your household suffers from allergies or unexplained symptoms or illnesses and if, after a visual inspection of the inside of the ducts, you see no indication that your air ducts are contaminated with large deposits of dust or mold (no musty odor or visible mold growth)."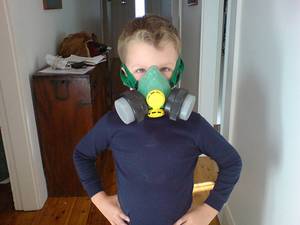 Figure 1 Photo By bigyahu
Many times moldy smells can come from the pad under the carpet. The carpet and carpet pad can retain water if not cleaned properly. A reputable and professional carpet cleaner will remove all soap and water when the carpet is cleaned. Any leftover water and soap will leave an odor. Oxyclean and Febreze have been known to minimize this problem.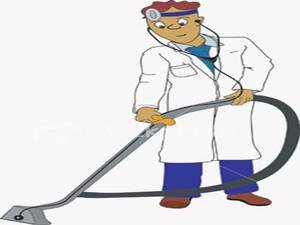 Illustration by tidyrug.com
Since all homes have some degree of mold, one of the best ways to minimize its impact is to ensure your home has a dehumidifier and/or air conditioning. Keeping your home's humidity level below 55 percent will also help minimize a "musty" smell.
You can also place a bowl of white vinegar in the room to absorb the smell, but this is only a temporary solution since it doesn't find the source.

Cleaning the surrounding area where mold may be prevalent with a vapor or steam cleaner also has been known to help.
But remember, the best way to control that moldy smell is to find the source of the problem (keep in mind mildew is mold). The interesting part you described is that your home energy inspector has not found the root cause. I spoke with a reputable home inspector Mike Goewey from Property Facts Inspections, and he agreed that if the above tips do not solve your problem, further on-site inspection will be needed.
I hope this helps. If any of our Annarbor.com readers have had or know of others who have had the similar issues and have successfully corrected them, do not hesitate to post a comment.
Paul is a State of Michigan Licensed Builder. Paul serves as President and founding member of Nationally franchised HandyPro Handyman Service, servicing Washtenaw, Wayne and Oakland Counties (www.handypro.com). Listen to Paul every Saturday at 11 a.m. on "It's Your Home, Let's Talk About It" WAAM Talk 1600AM. Email questions or comments to kpaul@handypro.com.