Posted on
Thu, Apr 21, 2011 : 9:47 a.m.
Converting a home's cathedral ceiling into a fifth bedroom
By Marcia Lyon
ca·the·dral ceil·ing - noun. Definition: sloping ceiling: a high ceiling that is slanted toward a central ridge or point, or that takes in two levels, e.g. in a living room with an overhanging balcony.
Cathedral ceilings are dramatic and add dimension to a room.
Builders include cathedral ceilings in the majority of new homes, as a selling point. It typically is in a foyer or a family room.
Many homeowners like this feature, and yet, some do not.
PROBLEM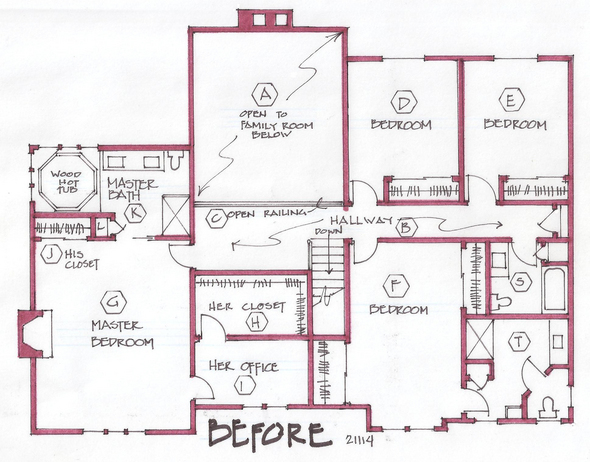 This fairly large house had such a cathedral ceiling over the family room (A), and the family didn't like it for a few reasons: noise transfer was one, another was that it was considered "wasted space," and thirdly, this family of five needed a guest room.
The second floor hallway (B) has a view over the railing (C).
The three bedrooms (D, E & F) were ample in size, as was the master bedroom (G). The master closets were uneven, with her huge closet (H) off her office (I), and his closet (J) slightly smaller than a closet in the kid's rooms.
The master bath had a big problem because the previous owner installed a wood hot tub (L) that was rotting and coming apart. The bathroom seemed small, and the owners wanted an enclosed toilet room. They were hoping that some extra bathroom space could be claimed as a part of the new construction project.
SOLUTION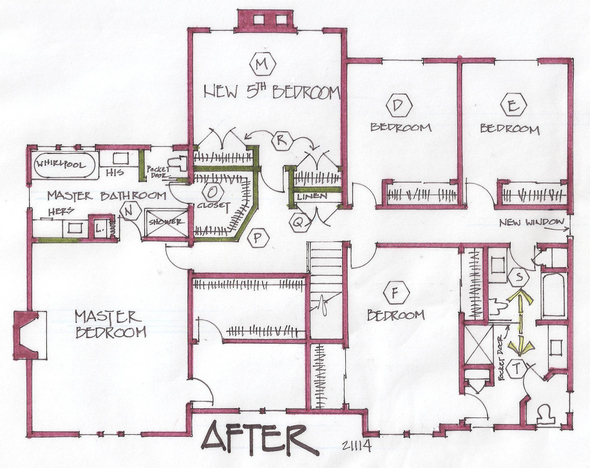 Not every cathedral ceiling can be claimed for new second-floor space. We had to verify that the roof structure was as high as the existing second floor. If not, the roof would need to be torn off and re-built, adding dollars to the project. In the case of this house, the roof height was perfect. We didn't even need knee walls (like the vertical walls in an attic).
The size of the new fifth bedroom (M) was determined, and then I looked to use whatever extra space was available. The new master bathroom (N) was laid out to include a large whirlpool and an enclosed toilet room. The balance of the space was used for separate sink stations and a standard sized shower.
We left room for a doorway to a new walk-in closet (O). The hall was kept open and made interesting by adding an angled wall (P). There was space for a large (and shallow) linen closet (Q), and two closets (R) in the guest room.
Now that three bedrooms (M, D & E) will be sharing the hall bath (S), we decided to combine it with bedroom F's bathroom (T). All we did was add a lockable pocket door.
Marcia Lyon is a professional remodeling designer and freelance writer, producing projects locally and several other areas across the U.S. and Canada. Her new book on remodeling design, "The Essential Planner for Home Remodeling," is available at www.creatingspaces.net. You may contact her at Marcia@creatingspaces.net or at 515-991-8880.