Posted on
Sat, Oct 29, 2011 : 6 a.m.
Emily Pilloton talks to Ann Arbor residents about good design for communities... and chickens
By Jim and Janice Leach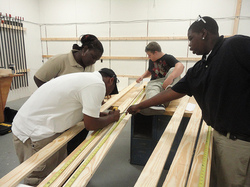 Photo used with permission from Project H Design
The other night, we attended a scintillating presentation that connected three of our continuing interests: community, farmers' markets and chicken coops. The lecture was part of the
Penny Stamps speaker series
at the
Michigan Theatre
every Thursday at 5:10 p.m., which is, for my money, the most intellectually-stimulating, regularly scheduled free date night in town.

Last night's speaker was Emily Pilloton, who created her own nonprofit when she had only $1,000 in the bank, based on the idea that good, sustainable design could transform the world. But instead of working "wide," her organization aims "deep."
They developed a design-build curriculum for Bertie County, N.C. Why Bertie County? The superintendent of this poor district read about them in Dwell magazine and invited them, first to build playgrounds, then to develop a curriculum… and teach it.
The way Emily told the story was moving and quite engaging, but it's also nothing that educators haven't already experienced. Her students were dealing with being single parents, having a record of serious offenses, poor anger control and worse communication skills. Some didn't know how to read a ruler. Others didn't know how to read at all.
Their Studio-H class was, for some students, the only face-time they had with an actual teacher. That is, all their other classes were on-line. (One student was even taking P.E. on-line, however that might work.) She did not romanticize the experience; in fact, she said, with some amazement, that she didn't realize how difficult working with high school students would be. I believe I chuckled out loud.
The first project was to build a "cornhole" game and to use computers to design the graphics that they painted on the boards. Emily gave some pretty clever prompts to spur these designs, like a limited color pallet based on the colors of the cornbags and a different action verb for each student like "fold" or "stretch." These boards were auctioned off to fund the next project, which was a bit more ambitious.
Bertie County is largely agricultural, and its largest crop comes from mass chicken factories. Their second project was to design a small, family-sized chicken coop. Actual chickens were brought into the class room so students could get to know their "clients" and to better understand their needs.
They made several iterative designs with cardboard and sticks, and then selected models for their full-size coops. Some groups used reclaimed lumber. All of them used some kind of MIG welded structure. In the end, all three of the project were delivered to local families for actual use in their yards. The recipients all seemed pleased with the coops, but I couldn't help thinking they might fit even better in a trendy community like Ann Arbor more than rural North Carolina.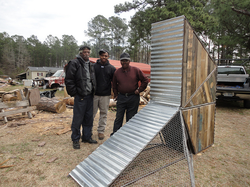 Photo used with permission from Studio H

Then the flood hit North Carolina. And another flood. And a tropical storm, I think. The class arranged a town meeting to discuss what the town needed, in effect to answer not just how the town could rebuild itself back to how it was but how it could rebuild itself better.
What came out of the conversations was that even though Bertie County is an agricultural community, there is no place to buy good produce. The class proposed a farmer's market.
Again they went through the iterative design process, but this time it involved several community-wide discussions. Emily noted that these design meetings created opportunities for folks to talk across lines of race, age, history about something they all care about — the future of their town. Eventually a design was selected that picked up elements of local vernacular architecture, was easy to use both for the vendor and buyer, and frankly looked cool but not "art school."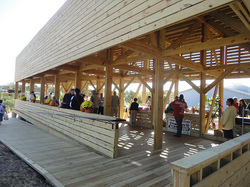 Photo used with permission from Studio H

And then they did what from my perspective was entirely impossible: they built the structure, using paid student labor and no subcontractors. Emily's architect partner got a contractor's license. The design passed flood and tropical storm durability approval.
The students weren't directly paid "wages," and there were those pesky safety laws to obey, I gather, that forbid having youth operate certain pieces of potentially machinery. But the building was built. Its opening day as a farmer's market was Oct. 1, just a couple weeks ago.
One takeaway I got was that they turned a liability into a strength. When they lost protection, they gained flexibility.
Four weeks before the class was to start, the superintendent got run out of town due to what Emily called "kindergarten politics." Their program was so endangered that the only way the school board would allow it to go forward was if it took absolutely no money from the district. And that included salaries.
I gather that she and her partner — the "nonprofit agency" — funded their programs through grants and a small salary from the community college, where their cross-listed course allowed students to earn college credit. They applied an agile, design-oriented approach to their own enterprise.
And the other lesson was "deep not wide." Do something, in particular, specific even if it can't be universalized or scaled large. In a sense it's the second verb of their motto "Design. Build. Transform." The relationship between building and transforming was also very strong in the presentation. Her notion of design struck me so strongly I wrote it down verbatim: "interesting solutions to worthy problems."
Emily Pilloton came into rural North Carolina, far from her native habitat of San Francisco, and, not only did she make it home, she made community.
Here's a link to her website.
Janice and Jim Leach have been gardening together for close to 30 years. They tend a backyard plot in downtown Ann Arbor, where they try to grow as many vegetables and other plants as possible. For the last four years, they've published gardening tips, photos and stories at their 20 Minute Garden website.