Home & Garden
Doing flips: Kristi Charles turns foreclosed houses into dream homes
Posted on Thu, Mar 31, 2011 : 5:56 a.m.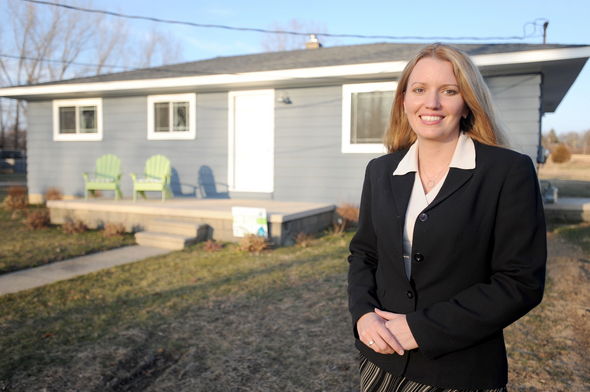 Angela J. Cesere | AnnArbor.com

Kristi Charles takes nightmares and turns them into dreams.

The property manager and former real estate agent buys bruised and abandoned foreclosed houses for a song, treasure hunts at local resale stores for many of the building materials, adds sweat equity (and the sweat equity of her father) and turns around and sells them at enough of a profit to start another house.

A house she is closing northwest of Dexter this week is her third so-called "flip" in a year. Her latest project on Huron River Drive is one of a handful of basic, three-bedroom, one-bath ranches built in the 1960s that together are known as Eckville, after the farmer who developed the small neighborhood, Charles said.

She passed the house daily on her way to work, and became interested when she heard it was going through foreclosure and would be on the market.

The interior was covered in dated wallpaper (including Care Bear embossed paper in one of the small bedrooms that had been painted over), there was a large hole in the living ceiling and the windows were broken and boarded.

But the worst part was the smell, Charles said. Utilities had been turned off when the house went into foreclosure, disabling the sump pump and flooding the basement with water.

"It wasn't so much what it looked like, it was what it smelled like," Charles said. "It had been vacant for more than a year and it had that old closed up smell."

But the house was structurally sound, there was a new roof and the water damage in the basement could be cleaned up.

Photo slideshow by Angela Cesere | AnnArbor.com

"It's a very straight forward house, structurally it was good and it had a great location," Charles said, with a rural setting and direct access across Huron River Drive to Hudson Mills Metro Park.

There were a half dozen or so bidders on the house, Charles said, and she paid slightly over the $35,000 asking price last July, and closed the deal in September.

She painted the aluminum siding a slate blue (matching the color of her sneakers) to set it apart from the white exteriors of the other houses.

She combed area resale stores and found:

• The granite bathroom vanity top at The Sharehouse on Jackson Road in Ann Arbor.

• An espresso-stained vanity at Restore, the Habitat for Humanity resale store on Aprill Drive in Ann Arbor. Cost for the two pieces: $90.

• A whirlpool bathtub, a luxury feature not found in most basic three-bedroom ranches, at ReStore. Cost: $75.

• Maple flooring throughout the house from ReStore. Knot holes and worm holes give the floor a rich texture, although they can be considered defects by purists. Cost: $2 a square foot, with the total costing less than $1,000. • She found the front door in Lansing for $99.

Many of the other materials were deeply discounted at retail stores, such as the ceramic tile for the bath she purchased from Home Depot and a roll of carpeting at Lowe's for $100 that covered the three small bedrooms. All of the landscaping, including scrubs and plants, were purchased from Home Deport at 80 percent off at the end of the season last year.

"It's really about shopping right, if you're going to do this and still have a profit margin."

Charles was able to re-use the blonde maple kitchen cabinets from another house. Not everything was a super-deal. The house needed new windows - the old aluminum ones were falling apart. Charles bought new windows and added a touch of style with the Prairie-style grillwork.

"They made all the difference," Charles said. She also opened a back window into a sliding door for a better view of the open land and access to the backyard.

She had to replace the old, rusty furnace, did some replumbing and bought new stainless steel kitchen appliances.

Charles did much of the work herself, from stripping the wallpaper, painting, patching the ceiling, trim work, laying the tile and more. She hired a handyman to do the rest.

"I knew it would make someone a great little starter home," Charles said. "I knew there would be a market for it when I was done."

And she was right. Matt and Shari Emhoff didn't expect to be able to buy a house. "We didn't think we had enough money," Matt said. But a USDA Rural Development's Single Family Housing Guaranteed Loan program made it possible to buy the $109,000 house, he said.

It's the perfect house for the couple. It has the hardwood floors, granite counter tops and Jacuzzi that Shari likes and its location across from the park makes Matt, a kayaker, happy.

"But what's most important to me is that I don't have to worry about it breaking down in two years. There's a new roof, new furnace and new hot water heater. It's in great condition," he said.

When she's done, Charles said she tries to sell the houses quickly.

"I try to hit just under the market," she said. "And the homeowner will move in with a little equity, too."

While the term flip has come to carry some dark meaning in the real estate business, Charles says that exactly what she does. A number of parties benefit, she said.

"It goes back on the tax rolls, property values in the area go up and the owner has a great starter home that's move-in ready for $109,000."

Join the conversation about this story online at AnnArbor.com/business-review.