Posted on
Fri, Mar 11, 2011 : 9:40 a.m.
Tips for insulating a drafty basement
By Keith A. Paul
Photo by: WN.com
I am getting a draft in my unfinished basement above the concrete walls where the floors meet. I inserted rolled insulation up there, but I still can feel the cold air. Any suggestions?.
-George R. Canton, Mich.
Hi George,
This is a common problem for homeowners because this particular area is usually an afterthought for insulation until after the house is built. The area is called the rim joist, or band joist, and is a perfect area for air penetration and sometimes even critter infiltration.
Sealing the gap correctly can stop air leaks and can dramatically improve comfort and efficiency of your basement, and of course... will result in lower utility bills!
There is a product our company has used on several occasions called Froth-Pak where there were similar issues with cold, unsealed and drafty basements. We have received positive feedback regarding the results; it's effective at stopping air leaks and serving as an insulator.
Here's some more good news: it's a project that the average do-it-yourselfer can complete himself. However, be prepared: the price is not cheap, but well worth the investment. $370-425 for approximately 200 square feet by one inch thick.
Froth-Pak, made by Dow Building Solutions, is a spray foam insulation kit which is similar to an industrial size "GreatStuff" insulation product. According to the Dow website, the R-value is 6.99 per 1.75 inch of foam. Another similar product is available from FOMO. When applied correctly to the joist, these products will expand, filling the cavity.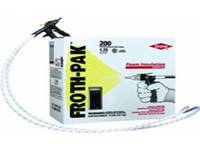 Photo from google.com/products
Here is a tip from one of our technicians, Mike M: if you need to get the foam in hard-to-reach crevices such as behind an air duct or a bumpout of your home, tape a drinking straw to the end of the spray nozzle. The diameter is a perfect fit over the nozzle, and it will act as an extension, allowing you to spray into the hard-to-reach areas.
Watch an application in progress on YouTube.
While foam insulation is relatively simple to use, be sure to wear protective eye goggles, a mask and disposable clothing. Be prepared, because it will stick to everything. If it does fall on a finished surface, be sure to let it harden and then pop it off! Enjoy and stay warm.
Paul is a State of Michigan Licensed Builder. Paul serves as President and founding member of Nationally franchised HandyPro Handyman Service, servicing Washtenaw, Wayne and Oakland Counties. www.handypro.com. Listen to Paul every Saturday at 11 a.m. on "It's Your Home, Let's Talk About It" WAAM Talk 1600AM. Email questions or comments to kpaul@handypro.com