Posted on
Fri, Nov 16, 2012 : 6 a.m.
Eight winterizing tips for procrastinators
By Keith A. Paul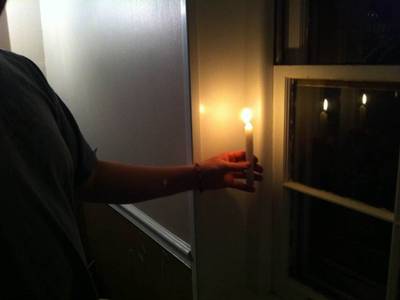 Photo by: Nicholas Paul
Hi Keith, I've lived in my home for several years now, and to be honest, I haven't done much maintenance. The house is now 8 years old, and I plan to live in it for many years to come. I've procrastinated a little regarding winterizing, what would you suggest I do before winter is in full gear?
Thank you,
—Devin M. Ann Arbor
It was a cold January night at the Paul household, especially in our living room. I checked the thermostat, and it said 72 degrees. I knew it was 28 degrees outside, but I kept asking myself why it was so cold in this part of the house?
I put my hand a couple inches away from the exterior living room walls, and it all appeared warm until I came across our bay window. That was it. I must have left the window open just a crack. As I looked at each window latch, I noticed that they were all closed.
I remember my father telling me how to detect a window leak with a candle. After lighting a candle, I carefully moved it around where the window meets the wall. Sure enough, I found a space where the candle started to flicker as if someone was trying to blow it out. It was just a hairline crack in the caulk, but it was enough to allow the freezing cold air into my home.
That was one of my first winterization lessons. A little time and effort can save a lot of wasted money on energy bills, not to mention that it saves on your home's wear and tear. Below I've compiled eight tips to help you winterize your home and keep more money in your pocket.
1. Be sure all gaps are sealed. According to U.S. Department of Energy although deteriorating or poorly installed window and door caulk can cause major energy loss, there are also not-so-obvious issues that can cause large energy bills. Problem areas include exterior walls where two different buildings meet, such as a chimney and siding or where the foundation meets the siding or corners of the home.
2. Install weather-stripping. Just today I purchased and installed a bottom of the door weather-stripping. Although it was 55 degrees outside and the weather-stripping was only a piece of thin rubber, it amazed me how much wind was unable to blow through.
3. Clean the gutters. Ice dams can be a major winter problem. If your gutters are full of debris, it can cause melting water to refreeze and work back up your roof underneath your shingles. And then melt again. That's where many homeowners witness "Niagara Falls" within their home.
4. Check your insulation. This step will not only help against ice dams, but will help keep the heat in during the winter. Be sure to check for proper insulation around your recessed lighting and attic doors, as they can allow a tremendous amount of air loss. Be sure the recessed lighting is IC rated which stands for Insulated Contact.
Photo by: energystar.gov
5. Be sure your attic has proper ventilation. Air flowing through your attic will also reduce the chance of ice dams. According to Energystar.gov, "Proper insulation and air sealing also keeps attics cold in winter by blocking the entry of heat and moist air from below. In the summer, natural air flow in a well-vented attic moves super-heated air out of the attic, protecting roof shingles and removing moisture. The insulation will resist heat transfer into the house." The picture on the right shows an attic baffle which allows air to flow from your soffit into the attic.
6. Drain your exterior faucet. Disconnect any hoses then turn off your valve inside your home. Open the exterior faucet valve and let drain. Otherwise there is a possibility of the water inside freezing. What happens when water freezes? It expands, and then pipes burst.
7. Other areas of heat loss include: Insulated exterior electrical outlets, exterior dryer vent and fireplace dampers.
8. Caulk, caulk, caulk. It is amazing how much air can squeak by with a hairline crack in deteriorated window and door caulk.
Many of these steps may appear to be trivial, but I can tell you from experience, they're not. I've dealt with hundreds of homeowners who had to call our company and wished they had drained the exterior faucet or cleaned the gutters to avoid the ice dams. The good news is that these expensive repairs can be avoided with a little time, planning and effort. Enjoy. Keith A. Paul is a State of Michigan Licensed Builder and a Certified Aging in Place Specialist. Paul serves as president and founding member of Nationally franchised HandyPro Handyman Service, servicing Washtenaw, Wayne and Oakland Counties. www.handypro.com. Email questions or comments to kpaul@handypro.com.