Posted on
Thu, Oct 7, 2010 : 8:20 a.m.
Energy Awareness Month inspires ideas on how to save
By NARI of Southeast Michigan, a chapter of the National Association of the Remodeling Industry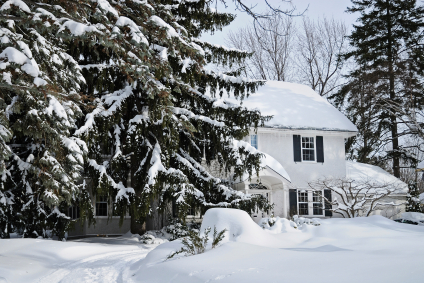 As you gear up for the cold, what can you do to reduce your energy usage? October is Energy Awareness Month, and the National Association of the Remodeling Industry offers some green remodeling tips to homeowners anxious to save money on energy bills. In the meantime, you can improve the comfort and health of your home as well!
The U.S. Department of Energy estimates that 56 percent of the energy used in a typical U.S. home comes from heating and cooling, making it the largest energy expense for most homes.
Homeowners who choose to "remodel green" can lower energy consumption by 30 percent to 50 percent — or even more (70 percent with "deep energy" retrofits).
The U.S. Department of Energy believes if current buildings were green-improved, they would use $20 billion less energy per year. The reason is that green remodeling emphasizes energy efficiency within the home, using modifications such as energy-efficient appliances, programmable thermostats and airtight, low-emissivity windows.
Energy Audits: The First Step
The first step to retrofitting your home is getting an energy audit. This process uses scientific hardware such as a blower door depressurization fan to test the homes current energy-efficiency rating. Homeowners are given a detailed report identifying problem areas in the home with recommendations on how to address them.
"An energy audit is really the first place to start when you are considering improvements to your insulation, weatherization or heating/cooling systems," said Doug Selby of Meadowlark Energy, a home performance contracting firm. "These audits diagnose what's not working in your home and make recommendations on how to fix problems. In the end, the audits improve much more than energy efficiency — they help homeowners save money and improve the comfort and health of their homes as well.
"Implementing recommendations from these audits can produce a 7 percent return on your investment in the first year, and in the years that follow too."
A word of caution, however. With added insulation and air sealing, it's possible for a home to become too tight—resulting in an unhealthy home, or moisture problems that eventually lead to mold. To prevent this in your home, add efficient ventilation systems throughout.
Energy Savings Tips
Perhaps the simplest way to become more energy efficient this winter is by managing your heat and electrical usage. Here are a few tips from local NARI remodelers to help you cut back on your heating and electric bills:
Gary Rochman, of Rochman Design Build: "There are some really simple things you can do that have a huge impact:
Replace air filters in furnace — every month during winter.
Close fireplace flue when it is not in use (many flues are left open in homes for years without people knowing it).
Turn on the humidifier on your furnace and replace the humidifier pad.
Repair weather stripping on outside doors.
Make sure you have adequate attic insulation.
Caulk and seal around your house — windows and doors.
Don't forget to seal off the whole house fan opening."
Dave Karras, of Wimsatt Direct: "The Environmental Protection Agency estimates that air sealing and insulating the home can help homeowners save up to 20 percent on their heating and cooling costs. That, combined with its relatively low cost, makes insulation one of the most cost-effective values in increasing the energy efficiency of the home. Homes experience energy loss through inadequate insulation and gaps or cracks in the building envelope. Homes built as recently as 10 years ago were insulated to specs that are now considered inadequate. Up to 40 percent of a home's energy loss escapes through the attic.
According to Energy Star, homes in southeastern Michigan should have attic insulation with a total R-Value of R49 to R60. The typical home with 3-4 inches of existing blown-in insulation will need additional R38 to R49 insulation to achieve the recommended R-Value. The economical price, noncombustible and nonsettling properties of blown-in fiberglass insulation make it the best choice today for increasing attic insulation."
Jan Youd, Andersen Windows & Doors "Of course, I'm going to focus on windows:
Windows are a major part of the envelope of your home and should be on your list for a winter checkup. If you have not replaced your windows recently, you may not have the most energy-efficient glass, and the weather sealing may have broken down over time.
Consider the exterior caulking, has it shrunk or is it peeling? This is an easy and inexpensive fix that can prevent cold air entering and heat escaping.
Another area to look at is whether your window sash (operating portion of the window) is sealing tight. If not maybe the locking mechanism needs to be replaced or the weather strip around the sash has broken down and also needs to be replaced.
If you are looking to replace windows, look for LOW E glass, think of the glass as a mirror — reflecting the warm back into the room and the cold back out.
If you have older Andersen windows, there are conversion kits that will provide new sash with the most current energy glass offering — a very reasonable replacement cost without replacing the entire window. Any replacement you are considering may be eligible for the Energy Tax Credits up to $1,500 (this program ends at the end of this year)."
Gary Grabowski, Greater Home Services "If you can access the top of the foundation walls from within the basement, have spray foam installed over the bond (band joist) that rests on top of the foundation walls. The foam will fill in gaps and seal out air leaks and insulate against heat loss via conduction through the wood. This is best done by an insulation (sub)contractor with special safety equipment and who knows the building codes."
Tax credits State and federal governments are providing tax credits for homeowners who make energy-efficient improvements or purchase energy-efficient appliances for their home. To receive the tax credits, homeowners must make improvements that fall under the standards set by the federal government, and they must be made during a certain date to be filed on that year's tax forms. The credit rate is increased to 30 percent of the cost of all qualifying improvements, and the maximum credit limit is $1,500.
To learn more about federal tax credits for energy efficiency, visit the Home Star Energy website .
The related Residential Energy Property Credit also received an increase. This is a nonrefundable energy tax credit given to homeowners who install qualified residential alternative energy equipment, such as solar hot water heaters, geothermal heat pumps and wind turbines. The new law removes some of the previously imposed maximum amounts and allows for a credit to equal 30 percent of the cost of qualified property. Click here for more information on the federal energy incentives.
Special loan programs exist to help homeowners pay for these improvements too. Michigan Saves works with a number of lenders to offer one of these programs. For more information about these loans, click here.
Finally, the utility companies are offering rebate programs to homeowners who make energy efficiency improvements. Both Consumers Energy and DTE have sponsored "Home Performance with Energy Star" programs. They are going to be announcing some big plans for 2011.
If you are planning a home remodel, NARI Remodelers can help homeowners find contractors who will take care of the entire remodeling process. Click here to find a NARI remodeler in your area.