Posted on
Fri, Jan 6, 2012 : 6 a.m.
Extend the life of your roof with proper ventilation
By Keith A. Paul
Hi Keith,

I have been getting estimates on having my roof redone. Everyone agrees that there are too many layers on my roof and that the original cedar shingle roofing needs to be removed and the sheathing replaced.

However, one roofer told me that because my attic is finished off, the side vents that are currently installed should be replaced with a ridge vent. Another roofer then told me that I should not have a ridge vent because of the construction techniques used when my house was built in 1924. A third roofer then said that either side or ridge venting would be fine but he would put the side vents up much higher than where they are now. Help!

Who is right?

Thanks,

—Jane

Hi Jane,

Proper attic ventilation not only extends the life of your roof, but can significantly lower your heating and cooling costs. Also, now that we are in the middle the winter season, proper ventilation is critical to help minimize ice damming.

A successful roofing system will allow outside air to continually flow through your attic, while helping keep the inside temperature constant. It will also help with moisture control, by creating a thermal control system and, most importantly, keeping the rain and snow out of your home.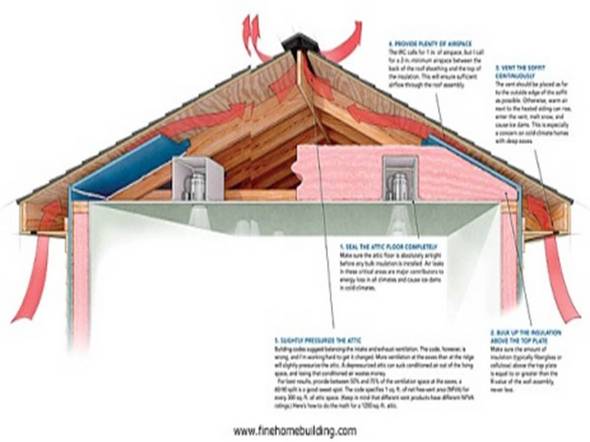 illustration by finehomebuilding.com
The challenge I had answering this question is that the response can vary depending on your home's construction. It's nearly impossible for me to completely answer your question unless I am on site to see the job.
However, in my research, I have spoken with other experienced contractors, such as Terry Burke from Northwest Construction and Jack Stewart, a retired building inspector who works for us, who gave some great information that I hope is useful to you.
The most important part of ventilating a finished attic is to ensure there is proper air space between the roof deck and insulation. This is especially true with cathedral ceilings, which I assume you have because of the finished attic.
According to buildingscience.com, cathedral ceilings operate under the same fundamental principles as vented attics, although the performance can be considerably reduced if not properly finished. A ridge vent would be helpful assuming there is a proper air flow from the bottom soffit venting to the top of the roof vent.
If you have an open attic, then proper soffit vents and a ridge vent would be sufficien,t along with Styrofoam baffles. Styrofoam baffles need to be inserted between the rafters, parallel with the roof decking, from the soffit to the ridge, (see illustration), which will create a continuous flow of air from the soffit to the ridge.
Keep in mind, there are temperature-controlled power ventilators which can help move air if additional support is needed. Especially during the hot summer months when an attic can reach temperatures of 150 degrees and more.
You may be asking yourself, "How much venting will I need for the size of my home?"
According to the International Residential Code for ventilation, code R806.2 Minimum area: "The total net free ventilating area shall not be less than 1/150 of the area of the space ventilated except that reduction of the total area to 1/300 is permitted provided that at least 50 percent and not more than 80 percent of the required ventilating area is provided by ventilators located in the upper portion of the space to be ventilated at least 3 feet (914 mm) above the eave or cornice vents with the balance of the required ventilation provided by eave or cornice vents.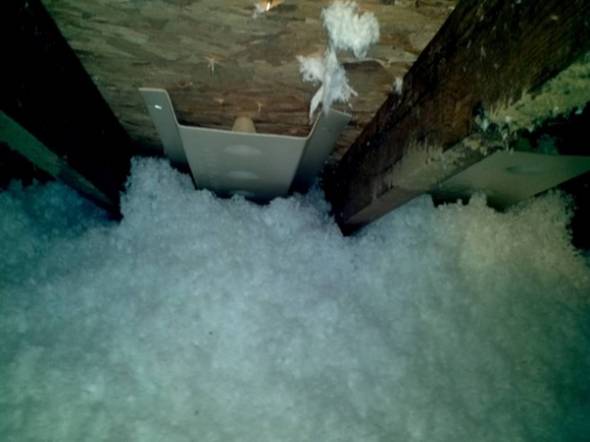 photo by: Nicholas Paul
As an alternative, the net free cross-ventilation area may be reduced to 1/300 when a Class I or II vapor barrier is installed on the warm-in-winter side of the ceiling."
In other words, if you do not have intake ventilation such as soffit vents, then you will need one square foot of vent space for every 150 square foot of roof space. Consequently, with intake ventilation you'll only need one square foot of vent space with every 300 square feet of roof space.
It is also a good idea to check with your local building inspector to make sure that there are no local codes that may affect you as well. Building inspectors are normally very helpful and hold a wealth of information.
Again, with proper venting, you can increase the life of your roof, lower your energy costs and help minimize ice damming. Stay warm and dry.

Paul is a State of Michigan Licensed Builder. Paul serves as President and founding member of Nationally franchised HandyPro Handyman Service, servicing Washtenaw, Wayne and Oakland Counties. www.handypro.com. Listen to Paul every Saturday at 11 a.m. on "It's Your Business, Make It Happen" WAAM Talk 1600AM. Email questions or comments to kpaul@handypro.com.