Posted on
Fri, May 13, 2011 : 11:50 a.m.
Planning carefully before painting the exterior of your home will make a large project go smoother
By Keith A. Paul
Dear Keith,
I am planning on painting the exterior of my home this spring. My home is 2,500 square feet, and almost all the exterior will need painting. I've never taken on a project this big and am looking forward to the challenge, but I want to ensure that I do it right. Can you give me some advice since I've never completed this type of home improvement project? Thank you.
—Joe S. Ypsilanti Township
Hi Joe,
Congratulations on taking on a project this size. Giving your home a fresh new coat of paint can be a great time to enjoy the great outdoors while increasing your home's curb appeal. It will also add a layer of protection for years to come.

There are many things to consider before starting any painting job, which leads us to our first step. The first question: What surface material are you painting? Wood, vinyl, brick, masonry?
Photo by: Habitat for Humanity
Different surfaces will need different preparation techniques and paint applications. If your surface is exposed wood, you may have to prime it first. There is paint available which includes a primer, although they can be a bit pricey. It may be less expensive to spot prime.
Next, consider the paint sheen. Flat can give you a softer appearance which can help hide a multitude of imperfections and is commonly used for the home siding. Keep in mind, the downfall with flat paint is it's difficult to keep clean, while semi-gloss and gloss can be easily cleaned and are used for high traffic areas such as doors and windows and trim.
Choose the color. Fortunately there are many free internet design software tools that will allow you to download a picture of your home and change your home's colors prior to painting. Here are a few: color jive, benjaminmoore, bhg. Take it from personal experience — this could save you from painting your home twice.
Prepare the surface. Be sure to remove all dirt, debris and loose paint. Remove and replace any deteriorating caulk.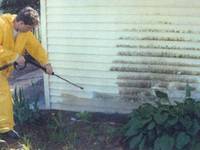 Photo by: housewashing.us
A power washer is a great tool you can rent to help in this process. If your home was built before 1978, then EPA lead-based paint laws may apply. Check out Information for Homeowners Working at Home for how this law may apply to your project.
Next, consider how you will apply the paint. From my understanding, this is a major project, and using a brush and roller for the entire home could take a tremendous amount of time. Although you can use the brush and roller for the trim areas, soffits, windows, door casing etc., the alternative is to rent a paint sprayer from your local hardware store. The sprayer is relatively easy to use and the rental company will give you detailed directions.
Preparation is the key with a paint sprayer. You will have to tarp off all areas that you do not want to be painted, including windows and shutters. Sound simple enough? Not really — the slightest wind can carry sprayed paint for several yards. Yes, that means your neighbor's new car could have tiny paint spots on it the same color of your home if you're not careful.
If you hire a professional, be sure to clarify the project details, and put it in writing.
One of our favorite jokes at our company is about an unprofessional handyman who was hired by a homeowner to paint an exterior porch while a homeowner was on vacation. The handyman read the homeowner's instructions and completed the project. When the homeowner arrived back home he read the note on the door from the handyman.
"That will be $200, your car is completely painted, and by the way the correct spelling is Porsche."
Planning ahead and taking your time, this project can have a fulfilling and dramatic effect on your home that will be sure to be the envy of all your neighbors.
Paul is a State of Michigan Licensed Builder. Paul serves as President and founding member of Nationally franchised HandyPro Handyman Service, servicing Washtenaw, Wayne and Oakland Counties. www.handypro.com. Listen to Paul every Saturday at 11 a.m. on "It's Your Home, Let's Talk About It" WAAM Talk 1600AM. Email questions or comments to kpaul@handypro.com.