Posted on
Tue, Oct 18, 2011 : 2:41 p.m.
Fall is a colorful season for native plants
By Rick Meader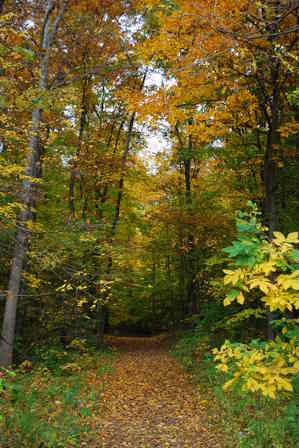 Rick Meader | Contributor
They come fast, and they come with a vengeance. The underlying xanthophylls, anthocyanins and carotenoids finally overpower the cool green chlorophylls of summer to make those leaves fiery reds, lemony yellows, molten golds and tropical oranges. The bright new colors also go quicker than they come, so this week we're going to take a look up, to see the fleeting colors of fall on display in a number of native plants.
Unlike most entries, this won't be a discussion of individual plant traits as much as a potpourri of trees, shrubs and vines that aren't blooming, but are colorful nevertheless and can be a great addition to yards across southeastern Michigan.
Let's start with the hardwoods. Oaks get their colors a little later in the season (usually reds or browns), but Sugar Maple (Acer saccharum) and Red Maple (Acer rubrum) offer as much pizzazz as you could ever desire in fall. Sugar maples turn a bright orange and red maples turn, well, red.
Hickories (Carya spp.) turn a rich, bright gold that is a real attention-getter in an oak-hickory forest, or along a country roadside. Black walnuts (Juglans nigra) and honeylocusts (Gleditsia triacanthos) have pretty much already dropped their leaves, and nuts, but they both have beautiful light yellow leaflets that coat the ground when they fall.
And, lest we forget, the changing needles of tamarack (Larix laricina) add an enchanting yellow background to a misty lake or swamp.
Rick Meader | Contributor
Smaller trees are no slouches when it comes to color, either. Sassafras (Sassafras albidum) turns a shade of orange similar to sugar maples, but with a selection of leaf shapes to add another element to the color. Sumacs (staghorn, smooth, shining and fragrant - Rhus typhina, glabra, copallina and aromatica, respectively) turn a mixture of yellows and oranges on their way to a fiery red or orange compound explosion of color.
Pagoda dogwoods (Cornus alternifolia) and flowering dogwood (Cornus florida) leaves are converting to a deep burgundy color, while Spicebush (Lindera benzoin) has nice soft lemon yellow leaves that are still hanging on in their woodland settings. Redbud (Cercis canadensis), too, has yellow leaves that look like small yellow saucers on the ground, due to their large, round shape.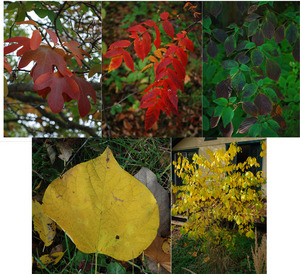 Rick Meader|Contributor
Many shrubs also like to get into the act. In swamps or moist areas, black chokeberry (Aronia melanocarpa), poison sumac (Toxicodendron vernix) and nannyberry (Viburnum lentago) offer outstanding displays of fall reds and oranges. In drier woods, prickly gooseberry (Ribes cynosbati) is turning from yellow to red, and mapleleaf viburnum (Viburnum acerifolium) is slowly turning yellow to red.
In the open, the deep burgundy leaves of grey dogwood (Cornus racemosa) highlight their bright white berries that will soon become bird food. Small willow shrubs are also turning nice shades of yellow and orange.
When it comes to striking fall presence, Virginia creeper (Parthenocissus quinquefolia) climbing up a tree takes second place to no one. Their bright red or deep red colors coat the trunks in a rich forest, making it look like someone erected red columns in the woods.
Grape leaves (Vitis spp.) are turning yellow on the vine, so what looked like a solid mass of shrubs may now be dappled yellow, especially if it is on a stand of the alien invasives privet, buckthorn, autumn olive or honeysuckle, which stay green much later into the fall. Poison ivy (Toxicodendron radicans) turns a mottled combination of yellow and red, and common bittersweet (Celastrus scandens)'s bright orange berries (at the terminus of the plant) add their own form of color.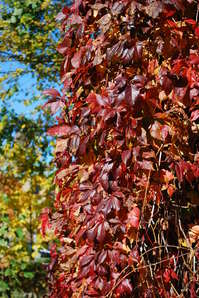 Rick Meader | Contributor
We've been truly spoiled by the weather of the last week, and I, for one, am not apologizing for it. It's been a great opportunity to get out and enjoy colors which may be somewhat whacked by the upcoming change in weather, but even thinned-out colors can be spectacular.
Unfortunately, I was not able to include photos of all of the fall color-makers, so get out and find them on your own while they're still around! There aren't a lot of blooming plants left in our yard, but the asters (smooth, calico, arrowhead, New England and heart-leaved) are hanging on, as is Brown-eyed Susan and bluestem goldenrod.
Rick is a local landscape architect with a special interest in all things natural, including creating designs that include a lot of native plants (and the critters they support). You can contact him at yourland1824@gmail.com.