Marcia Lyon's Creating Spaces
Final changes make this expanded house work
Posted on Thu, Dec 24, 2009 : 7:34 a.m.
As a tiny house grows, large rooms are added to small ones. Much of this super-sizing comes from frustration of cramped, boxy spaces. Everyone today wants open, airy rooms with lots of natural light. In my opinion, if you aren't careful, these new, spacious rooms can be totally out of proportion with the existing house if changes aren't considered to what you are starting with.
PROBLEM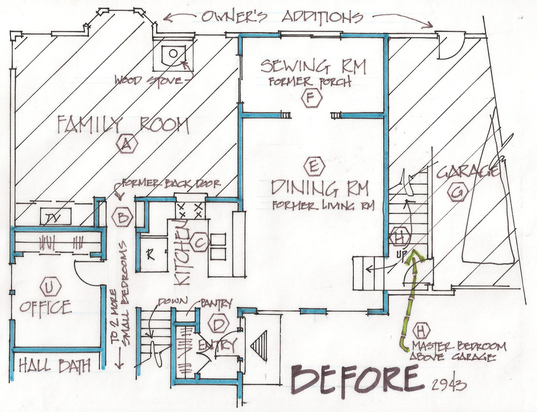 This home, originally an 850-square-foot, three-bedroom bungalow functioned fairly well for many years after it was built. Time passes and lifestyles change, requiring more of the basic structure. The current homeowners had done quite a bit to improve their situation. They started with a huge family room (A), conveniently accessed from the former back door (B). When you compare this great big family room (A) to the filled-to-capacity kitchen (C), and the almost walk-sideways entry (D) you see that that the house feels out of proportion. To compound the proportion issue, the former living room had been converted to a crazy-large dining room (E). The homeowners enclosed the porch (F), creating an odd little room that eventually became used for sewing. Another addition was an attached 2-car garage (G). They made enough space above this garage to add an expansive master bedroom (H) (not shown), including master bath, large closet and exercise area. Now, with all this luxury added, the kitchen and entry felt even more out of place. This was the focus of their new remodeling project with me.
SOLUTION
The logical place for the kitchen was in the huge transitional space used as the dining room (E). This location was great for its proximity to the garage (G) and the family room (A). This new kitchen (I) does everything - it's the center of activity; a short trip from the garage (G); great views out the front windows (to see who's approaching), and convenient to the new dining room (J). There is a comfy loveseat (K) for visitors, a closet style pantry (L), a practical dish display cabinet (M) and a shallow cabinet (N) built just to store medicines and vitamins. The dining room (J) is small, but has room enough to expand the table. Some of the extra width of this room is taken up by a wall-to-wall built in buffet (O). The sliding glass doors remain, with access to a new deck. We didn't open the dining room to the family room intentionally to add some badly needed wall space in both rooms. Now there is a new single door (P) to the deck (O) for entertaining. The former kitchen space (C) is used for many things. Primarily, it is a big closet for coats and cleaning supplies. It also recesses the extra refrigerator and a most important "To Go" shelf (T) for items coming and going for both doors out. With no need for the closet in the foyer (D), the room is larger and can accommodate a hall table and plants. We even improved the office by installing glass pocket doors, which shares the window light with the hallway.